What is an adjustable bed frame?
Have you ever seen the beds that change position at the touch of a button? If you want to sit up while you're watching TV, just press a button. If you want to elevate your head and your feet at the same time, just press a button. If your partner wants to go to bed but you want to stay up and read, just press a button. That's right—an adjustable bed frame or adjustable base lets you customize your bed for the ultimate relaxation.
A split adjustable base option (usually for a king or California king) is great for partners who like to sleep differently. If you're a side sleeper but your partner is a back sleeper, you can keep your side of the bed flat, while your partner can raise their head and legs.
The Leesa adjustable base gives you the freedom to customize your comfort. Adjust your bed position for lounging around, put your feet up and relax after a long day or optimize your bed's position for better sleep. Plus, you don't need an additional foundation or frame for the Leesa adjustable base, just your favorite foam mattress.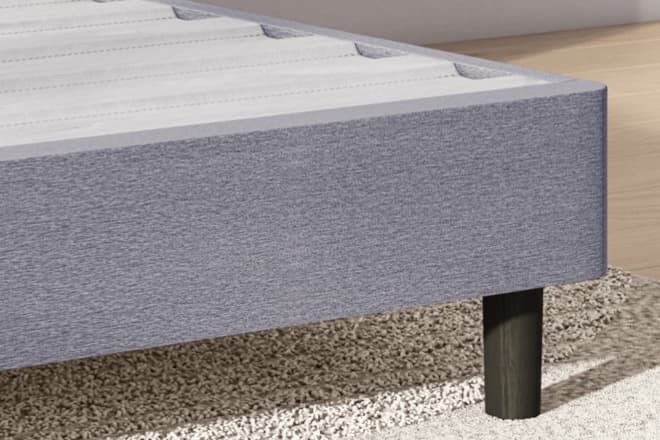 Extend the life of your mattress. Leesa Bases offer strong, sturdy support options to upgrade your sleep.
Shop Now
Are adjustable beds worth it? There are very few downsides to an adjustable bed. They are great for reading or watching TV in bed. Back sleepers, snorers, and acid reflux sufferers can elevate their head position for more comfort. Older people and people with injuries have an easier time getting in and out of an adjustable bed.
What are the benefits of an adjustable bed frame?
While there are very few downsides to getting an adjustable bed frame (the price being sometimes being a reason people pause), there are many benefits.
An adjustable base can make it easier to do things in bed, like reading, watching TV, or surfing the Internet (although we recommend keeping your technology use in bed to a minimum). You can adjust your bed to the best position for the activity you're doing.

For back sleepers especially, an adjustable bed frame allows you to raise your head and feet slightly for a more comfortable sleeping position.

If you suffer from snoring or acid reflux, elevating your head position with an adjustable base can help alleviate symptoms that may keep you awake.

If you have a lower-body injury, like a sprained ankle or broken leg, an adjustable base allows you to elevate your legs. It's also great for people with poor circulation in their legs.

The adjustable base offers a zero-gravity feel, providing pressure relief. That way, you feel absolutely weightless while you sleep and get the rest you need to recharge and recover.

Especially for older people and people with injuries, having a bed that raises up and down easily may help you get in and out of bed more comfortably.

Split options for the adjustable base allow partners to individually customize their side of the bed.
What kind of mattress do I need for an adjustable base?
Not every mattress type is great for an adjustable bed frame. Your mattress needs to be flexible, durable and the right size for your adjustable base.
In general, the best type of mattress for an adjustable base is a foam mattress or a hybrid mattress that combines the best parts of foam and spring. It's important that your mattress can bend and move with the adjustable base, and a foam mattress does just that. It's also important that a mattress you're going to use with an adjustable base is durable since you'll likely be moving your bed up and down frequently to different positions.
Both the Leesa and Leesa Sapira Hybrid mattresses are great complements of the Leesa adjustable base. The Leesa mattress is made with three layers of premium foam to provide cooling, body contouring, and pressure relief, while the Leesa Sapira Hybrid mattress combines Leesa's premium foam layers for comfort with individually wrapped springs for extra support. Both mattresses have the flexibility and durability that make them great choices for your Leesa adjustable base.
What features should I look for in an adjustable bed frame?
Every adjustable base will boast different features, but a good adjustable base should have:
Remote control to adjust the bed position. (An app that allows control from your phone is a bonus!)

A bar at the bottom of the adjustable base and bottom and anti-slip material so that your mattress stays put no matter what position it's in.

Lights underneath the bed, controlled by the same remote, illuminate the floor when you get in and out of bed in the dark.

A sleek design that won't disrupt your room's aesthetic.
You should also consider whether or not the adjustable bed you want requires any additional pieces. Some adjustable bases require your own frame or foundation that works in conjunction with the adjustable base. The Leesa adjustable base doesn't: there is no bed frame or existing foundation required. Just top your adjustable base with your Leesa or Leesa Sapira Hybrid mattress and you're ready to relax.
Should I get an adjustable bed frame?
Whether or not you get an adjustable base depends on your personal preference, although if you have a health condition or injury, a doctor may recommend trying an adjustable bed frame. You should also consider your budget and an adjustable base's compatibility with your existing mattress.
If it's time for a new mattress, upgrade your sleep with a Leesa or Leesa Sapira Hybrid mattress and Leesa adjustable base.