Sharing a bed with your partner may not be all that it's cracked up to be. Couples in your favorite rom-com may look like they're having the time of their lives cuddling up at the end of the day- watching a movie marathon then dozing off soundly in the night. We all wish it were that simple, but in reality, there are many compromises when sharing a mattress with your partner. Finding the perfect mattress for couples is the key to having the perfect night's sleep with your significant other. Wake up to a better relationship with the right mattress

How Do I Choose a Mattress for Couples?
When you're shopping for a new mattress, there are some things that you have to keep in mind to make sure that you get the most out of your mattress in the years to come.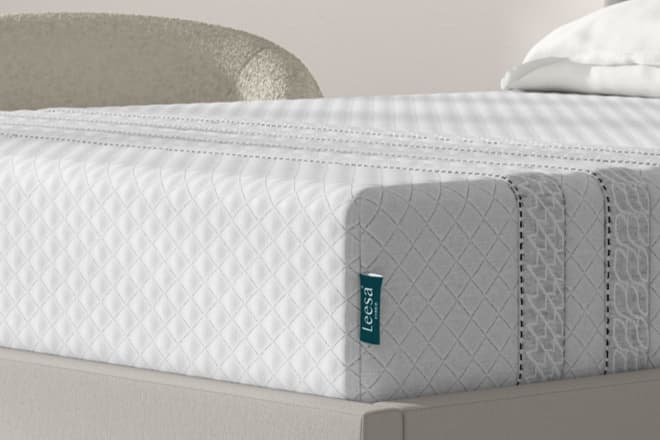 Meticulously designed mattresses for better sleep. Expertly crafted with high-quality materials for cool comfort and support.
Shop Now
A mattress is an investment, so knowing what you are looking for when mattress shopping ensures that you get returns on your investment.
Motion Transfer
Varying sleeping schedules and different sleeping positions can affect your sleep when you share a mattress with your partner. The best mattress for couples has the least amount of motion transfer. This feature is essential, especially if you are a light sleeper. Leesa has a wide selection of mattresses for couples that you can select from. So whether you're both side sleepers, combination sleepers, stomach sleepers, or whatever sleep positions you favor, Leesa will have a mattress that can keep couples happy.
Memory Foam Mattress- A typical memory foam mattress is excellent in cushioning movement because the material absorbs the motion. A memory foam mattress also helps in temperature regulation by functioning as a cooling layer. This is a great feature, especially for hot sleepers.


Besides having good motion isolation, the memory foam layer also contours to the body, providing the best support- no matter the sleep style. The Leesa mattress has passed the wine glass test for motion transfer, making it one of the best memory foam mattresses on the market.


Latex Mattress- Latex mattresses are one of the sturdiest mattresses on the market. A latex foam mattress can be made from natural rubber material harvested from the rubber plant or synthetically produced. Most latex mattresses last for up to two decades with proper care. Latex mattresses for couples also come with varying degrees of firmness. When shopping for a mattress for couples, you will want to keep in mind the firmness preference as this mattress is expected to last you in the years to come.


Hybrid mattress- A hybrid mattress combines the benefits of premium foam with individually wrapped springs. A hybrid mattress is a good mattress for couples because it combines the support of innerspring mattresses with a gel-infused memory foam layer. The Leesa Sapira Hybrid mattress has a gel memory foam layer, 1000 individually wrapped coils, and a breathable top layer.


Support
Maintaining a neutral spine alignment is the best way to prevent back pain. A good mattress should provide you with support even in different sleeping positions. When you're part of a couple, there is an excellent chance that one of you may weigh more than the other. A firm mattress will provide you with optimum support no matter the weight. Leesa has different beds that cater to your sleep preferences and preferred mattress firmness. Let's look at the common sleeping positions to decide on the support you need for a good night's rest.
Back sleeping position- Although back sleeping keeps your spine in a neutral position, it may not be the best position if you or your partner are snorers or suffer from sleep apnea.


Side sleepers- This is the best position that works for almost anyone. To maintain optimum spine alignment, you can sleep with a pillow between your legs. Leesa also has a wide selection of pillows to complement your supportive mattress.


Stomach sleepers- Sleeping on your stomach is the most unadvisable of all possible sleeping positions. Sleeping on your stomach puts strain on your back and neck and can cause discomfort. This is especially true for heavyweight stomach sleepers. However, if you can't avoid being a stomach sleeper, you may want to sleep on a medium-firm mattress and prop a pillow under your head for support.


In terms of mattress support, it is also essential that your mattress has solid edge support and good edge support to serve as an additional layer for motion isolation.
Firmness
The firmness of a mattress will vary depending on the material used. Leesa has many mattress options that have varying degrees of firmness. Although firmness and support are different concepts, these two go hand in hand when shopping for the best mattress for couples. Mattress firmness is all about personal preference, and the key to having the best mattress for couples is a compromise with mattress firmness.
Firm Mattress- A firm mattress is best for couples wherein one couple may be significantly heavier or bigger than the other. A firm mattress will not easily sag with weight, so even if the heavier part of the couple sleeps on their side, the lighter one will not easily roll over to the other side as the mattress does not cave easily.
Soft Mattress- Some couples prefer to sleep on a soft mattress. A mattress can be soft while at the same time providing good lumbar support. This can be achieved by a memory foam layer coupled with the technology of an innerspring mattress. These features can be found in several Leesa mattresses, the best mattresses for couples.
If compromise is not an option, you can buy a mattress with an adaptive feel, which is designed for every body type and sleeping position.
Split mattresses- A split mattress is simply two mattresses placed side by side. This is an excellent option for when you want to have a mattress with foam layers, but your partner wants one with memory foam. Can't decide between a firm and soft mattress? A split mattress may be the solution to your mattress problems.


Fully customized mattresses- This is a mattress that is adjustable on both sides. This is an excellent option for when you want to invest in a mattress that is adjustable to support pressure points and can be adjusted individually on both sides. If you wish your side a little higher but your partner wants their side lower, the mattress industry has a solution for your mattress problems.


Luxury mattress- If you want to splurge a little, a luxury mattress is a way to go. After all, we spend a third of our entire lives sleeping, so why not treat yourself to a luxurious bed? If the sound of memory foam mattresses and a Dreamcloud mattress for couples sound too posh, Leesa has an affordable luxury mattress selection that can cater to any price range.


When choosing a mattress for a couple, it's essential to consider that firmness and support should be separate considerations. Firmness is something you feel as soon as you lay down. Is the mattress plush and cloud-like, firm and complex, or somewhere in between? On the other hand, support is how well the mattress keeps your spine aligned.
Living on Your Mattress
Your mattress is more than just for sleeping. This is where you spend the most intimate time with your partner, discussing the day, cuddling up and watching tv, or reading a good book side by side. This is why the best mattresses for couples have good support and good bounce.
Good mattress support is essential for pressure relief and motion isolation. The idea behind finding the best mattress for your and your partner is to give both of you the best sleep possible. So no matter what type of sleeper you and your partner are, the best mattress will be able to cater to your level of comfort so that you wake up every day feeling refreshed and ready to face the day.
What Size Mattress is Best for Us?
The ideal mattress size depends on your sleep style. Are you average-weight stomach sleepers? Are you heavyweight stomach sleepers? Do you sleep on your back? Or maybe you want to cuddle through the night. Leesa has different mattress sizes and materials that can potentially be the right mattress for you and your partner.
Queen- A queen bed is big enough to fit two people comfortably. However, a queen bed may not give you enough space to move around during the night, and you may end up disturbing each other's sleep.


King- A king bed is the best size for a mattress for couples. It is big enough to move in without taking up too much space in your room. There are also split king mattresses made up of two mattresses put together.


Cali King- A Cali king bed is the biggest available standard mattress size. A Cali king bed is big enough without you having to worry about motion isolation, especially with a mattress that has innerspring coils. However, not everyone has the bedroom space to accommodate such a big piece of furniture. Only opt for this mattress size when you know you have enough bedroom space to go around.


How Do We Know It's Time For a New Mattress?
A mattress is typically expected to last anywhere from seven to ten years. When your mattress has reached this mark, you can say that your investment has been returned. However, time is not the only factor to determine if you need a new mattress. With proper care and handling, a good quality mattress can even surpass this ten-year mark. But if you see the following signs, it may be time to go mattress shopping:
Lumps in the mattress


Sagging


Constant aches and pains upon waking


Squeaking box springs


You don't need a certified sleep science coach to tell you that it's time to replace your mattress. If any of these signs are present in your current mattress, Leesa can help you with your mattress woes.
Do Couples Sleep Better on a Memory Foam or Spring Mattress?
The mattress material is purely a matter of personal preference. In choosing the best mattress for you and your partner, there is no right or wrong way to do it.
Memory foam
Better motion isolation


Better pressure relief on pressure points


Ideal for hot sleepers to regulate body heat


Spring mattress
Universal option


Generally has a medium-firm feel


Individually wrapped springs give better support


Shopping for your first mattress as a couple should be a thrilling experience. Leesa has many options for couples looking to invest in their first mattress together. When shopping for a mattress as a couple, some things to consider are the size, firmness, and comfort level that is agreeable for both of you. Leesa has the best mattresses for couples; whether it's hybrid mattresses, all-foam mattresses, or luxury mattresses, you can find everything at Leesa. When you're ready to take your mattress to the next level, Leesa has got your back.
If it's time to change your mattress, don't sleep on it.
Shop Leesa for your next mattress purchase.
FAQs
What is the best mattress for heavy couples?
There are a number of special considerations when shopping for a mattress for heavy couples. Heavy couples will want to have the best mattress support without compromising comfort. Leesa has hybrid mattress models that provide the support of traditional innerspring mattresses coupled with the comfort of a memory foam mattress surface. A hybrid mattress is also great with motion isolation. Even heavyweight stomach sleepers will benefit from a Leesa hybrid mattress.
What is the best mattress for couples who toss and turn?
Couples who often toss and turn have a bigger problem- they will have a poor sleep quality from all the frequent waking when a mattress does not have good motion isolation and support. A memory foam mattress is the best mattress for couples who toss and turn. Unlike traditional foam mattresses, a memory foam mattress molds to your body, and its material can help to isolate nocturnal movements. These features are great for restless sleepers as it lessens the chances of waking each other up at night.
What size bed do most married couples sleep in?
A queen-size mattress is the most popular mattress size for couples. It measures 60 inches wide by 80 inches long and provides enough room for two people to sleep comfortably and spread out a little.