Our Top Picks: 10 Black Friday Bedding Deals For Restful Sleep
Everyone needs a good night's rest, so this holiday season, don't miss out on these top Black Friday bedding deals. Whether you're looking to cozy up your own space or buy gifts for friends and family, these deals will deliver better sleep all year long.
The Perfect Mattress
Leesa Legend Hybrid Mattress, starting at $1,529
You can't settle in for a long winter's nap without the right mattress. But finding a mattress online can be overwhelming. There's no right or wrong answer to what kind is best—it all comes down to personal preference and sleeping style.
Side sleepers might prefer an all-foam or a spring and foam hybrid. Back sleepers may do best with an all-foam mattress to relieve pressure points, maintain spinal alignment, and prevent back pain. Stomach sleepers might be most comfortable on a spring and foam hybrid to take pressure off their hips.
The only way to know if a mattress is right for you is to test it out. That's why every Leesa mattress comes with a 100-night, risk-free trial. Whether you're buying it for yourself or as a gift, you don't have to worry about choosing the wrong mattress. If it doesn't bring restful sleep, you can send it back for a full refund and try a different style.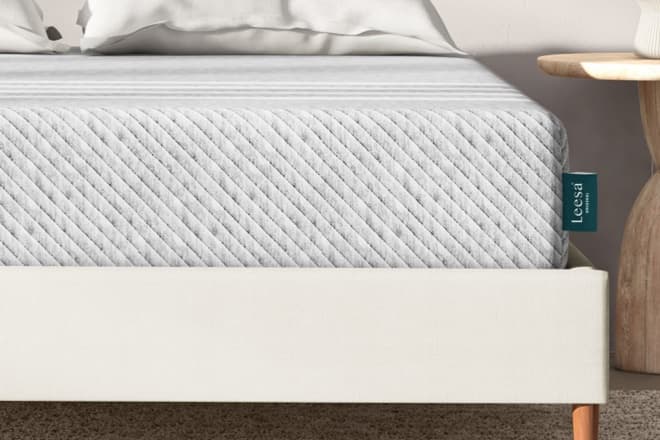 The Original Mattress sleeps cool through breathable, responsive foams for all-night comfort.
Shop Now
If a new mattress is outside of your budget, a foam mattress topper is a great solution. Leesa's 2-inch-thick, high-quality foam topper provides ultimate comfort and support for all types of sleepers, so you can't go wrong with this affordable option. Plus, it's a lot easier to wrap.
Customizable Comfort
Leesa Adjustable Base Bed, starting at $1,299
There are many benefits to sharing a bed with someone, but bedmates don't always agree on what makes the perfect sleep setup. When this happens, usually one partner or the other has to compromise—and sleep worse because of it.
But it doesn't have to be that way. An adjustable base is a great solution for a fully customizable sleep experience (and a happier relationship).
With the push of a button on the remote control, the bed frame lifts the top and/or bottom of the mattress for reading, watching TV, working in bed, or just plain getting comfortable and ready to sleep. You can purchase a Twin XL, Queen, Cal King, or Split King setup with your choice of Twin XL mattresses for the ultimate in custom comfort. The possibilities are endless.
Weighted Blanket for Anxiety
Hand-Knit Weighted 10-lb Blanket
When you're exploring this year's Black Friday bedding deals, don't sleep on (pun intended!) this hand-knit weighted blanket from Leesa. It's buttery-soft, breathable, and provides deep pressure therapy to help relieve stress and anxiety for restful sleep all night long.
Unlike other weighted blankets, this one is woven with layers of soft jersey material—not filled with sand or beads—so you don't have to worry about tears or leaks. Plus, the open-knit design increases airflow and keeps even hot sleepers nice and cool. Stay cool, calm, and cozy with a hand-knit weighted blanket and other bedding essentials from Leesa.

Calming Tea
The Calming Box by Asheville Tea Company, $39.00
One of the most comforting substances on earth is a nice cup of tea. Not only is holding the warm mug and smelling the soothing aroma therapeutic on its own, but the act of making tea can be a great bedtime ritual in and of itself.
Making tea can be so centering that the Japanese are known for their tea ceremonies, which are deeply rooted in history and full of symbolism. It's practiced as a ritual of intention, quiet reflection, and living in a simple moment. While you don't have to go quite that far, making tea is still a great way to practice being calm and present. Putting the kettle on the stove, pouring hot water into a mug, and waiting for the tea to steep can help you detach from your hectic day by focusing on a simple task.
Herbal tea varieties like lavender, chamomile, tulsi, oatstraw, elderflower, hibiscus, and peppermint are known for their relaxing effects. Green tea is another great option, but choose decaf or one with low caffeine so it doesn't interfere with sleep. To create a tea-making gift set, include a beautiful cup or even a heated mug.
LectroFan EVO White Noise Machine
LectroFan EVO White Noise Machine, $49.95
White noise machines are a popular gift choice during the holiday season. They maintain a soft, consistent sound that blankets over the sleeper and masks other sounds in the room. Not only is the sound helpful for getting to sleep, but it also helps you stay asleep by eliminating any changes in sound around you.
Meticulously designed mattresses for better sleep. Expertly crafted with high-quality materials for cool comfort and support. Shop Now
White noise is also great for people who don't like silence and need to have some noise around them. When consistently incorporated into a bedtime routine, the sound of the machine becomes a signal to the body that it's time to rest. While white noise machines offer a variety of different sounds, we like the LectroFan EVO because it offers 22 different sounds to choose from, so there's something for every type of sleeper and environment.
Weighted Sleep Mask
Nodpod Weighted Sleep Mask, $34.00
The gentle, soothing pressure of this weighted sleep mask feels like a hug for the eyes. Not only does it block out light to aid sleep, but it has a similar effect on the body as a weighted blanket. It works by applying gentle, deep touch pressure, which creates a sense of calm by activating the parasympathetic nervous system. This kind of gentle pressure is great for anyone with anxiety or sleep disorders, since it helps slow the heart rate and breathing to help the body calm down for rest.
As a bonus, the Nodpod sleep mask can also be placed in the freezer for an extra soothing experience.
Sumptuous Skincare
Tatcha Luminous Dewy Skin Night Concentrate, $110
Fine lines and wrinkles don't stand a chance against a good nighttime skincare ritual. This simple act of self-care before bed can be a soothing and indulgent experience.
To assemble a delightful facial care set to give as a gift, include makeup remover, a gentle cleanser, toner, and night cream. This idea is easy to customize and can fit any budget. Choose from fantastic and affordable drugstore brands, or splurge on Tatcha's luxury products for ultimate pre-snooze pampering.
Research has also shown that taking a hot bath or shower about 90 minutes before bed can help you fall asleep more quickly. So supplement your gift or your own nighttime routine with bath and skincare products from Dr. Teal's that contain relaxing ingredients like melatonin and essential oils.
Aromatherapy Essential Oils
Grove Collaborative Unwind Essential Oil Blend, $14.95
Soothing scents make for sweet dreams. Anyone on your list (including you!) would be delighted to receive relaxing essential oils and an aromatherapy diffuser. There are many different types of essential oils that are ideal for relaxation.
Lavender: Great for calming the nervous system, lavender essential oil helps with insomnia and promotes restful sleep, leaving you feeling refreshed when you wake up in the morning.
Chamomile: Similar to the effect drinking chamomile tea has on the body, chamomile essential oil can help reduce anxiety and improve sleep.
Clary Sage: A comforting scent, clary sage is known for its antidepressant effect and its ability to help reduce cortisol levels and blood pressure.
Cedarwood: Fresh and woodsy, cedarwood has a sedative effect due to a chemical compound called cedrol.
Bergamot: Bergamot is commonly found as an ingredient in sleep blends rather than alone, but its calming properties are thought to improve mental health and lower blood pressure.
You can purchase essential oils separately to make a custom concoction or buy this blend formulated specifically for sleep.
Super Soft Sleep Socks
Cloud Socks at Brother Vellies, $35.00
Not everyone likes to sleep with socks on, but for those who always have cold feet, a pair of cozy sleep socks is a bedtime essential.
And did you know that wearing socks to bed actually promotes sleep? Warm socks help increase blood flow and prevent heat loss through the skin. This lowers the body's core temperature and helps bring on a snooze.
Cloud socks come in every imaginable color and are one-size-fits-all to provide cozy comfort for the whole family. Pair them with some soothing foot cream for a spa-like bedtime routine.
Quality Fitted-Sheet Set
Bamboo Cotton Sheet Set
Wrap yourself in luxury at a price you won't lose sleep over with a quality fitted-sheet set from Leesa. Whether it's time to upgrade your bedding or looking for the perfect gift, you can't go wrong with Black Friday bedding deals on Leesa's Bamboo Cotton Sheet Sets.
Made from a soft, cool, and breathable blend of all-natural bamboo and cotton, these high-quality 300-thread count sheets come in seven sizes and fit up to 17" tall mattresses. And since they're made with sustainable materials, they are a great gift for the environmentally conscious person on your list.
Preparing for a Relaxing Black Friday: Special Offers Await!
With Black Friday sales just around the corner, this handy list will hopefully soothe some of your shopping stress. Give yourself a relaxing treat or surprise your loved ones with the gift of blissful sleep this year (or both!) with these incredible Black Friday bedding deals.
Join our email list to stay on top of special offers and discounts like our Black Friday Sale and more!
FAQs
What should I get for someone who has trouble sleeping?
Any gift that helps you relax and get comfortable is a great gift for someone who has trouble sleeping. Try herbal teas, white noise machines, aromatherapy essential oils, cozy pajamas, and a comfortable mattress and bedding.
What's a good gift to buy someone who loves naps?
Daytime nappers need help creating a restful environment, so anything that can help them catch a quick snooze is perfect. Think noise canceling earbuds, a white noise machine, an eye mask, aromatherapy essential oils, or a weighted blanket to help them relax.
What are Black Friday sleep gift deals?
You can find ways to save money on all of your holiday shopping during Black Friday sales. Shop around for announcements about sleep gift deals in advance so you can snag some savings on the big day.
Can I return or exchange bedding gifts purchased on Black Friday?
It depends on the company's specific terms. At Leesa, we want you to get your best possible sleep. So we offer a 100-night risk-free trial on mattresses, a 30-night risk-free trial on bedding, and free returns and exchanges. Whether you're buying a gift for yourself or someone on your list, you can be confident that, if you don't love it, Leesa will make it right.