A new mattress is an investment in your physical and emotional health. A good night's sleep is vital to productive, enjoyable days to work and play. But with so much terminology floating around, it's challenging to decide what to look for in your new mattress.
"Hybrid mattresses" fall into this category. What are hybrid mattresses? How are they better than others? And who might benefit from one?
Read on to find out what makes hybrid mattresses so special and Leesa hybrids so unique.
What is a Hybrid Mattress Made of?
Hybrid mattresses are beds with several layers made of different materials. These intricately-designed layers work together to provide advanced comfort and support for the sleeper. Generally, hybrid beds combine:
A cover or casing

Body-contouring memory foam layers

Cooling gel or other cooling system

A base layer innerspring coils system
Memory Foam Mattress
Memory foam gently cradles the body with a comfort layer, providing pressure relief. This can lessen tossing and turning, so you rest more soundly, deeply and for a longer period of time.
It also significantly reduces motion transfer from a partner getting out of the bed or turning over, reducing sleep disruptions. And foam certainly has less noise compared to a traditional innerspring mattress.
Gel-infused
Gel is one method a hybrid mattress can use to redistribute body heat, so you can sleep cooler. Hot sleepers rejoice! Most hybrid mattresses have a gel-infused foam top layer. This keeps the gel close to the skin without having you feel like you're sleeping on gel, which some people find uncomfortable on other mattresses.
Pocketed Coil Springs
The bottom layer houses individually pocketed springs, also called coils, to provide maximum support for the more contouring foam surface. This provides structural firmness that some people may find lacking in other memory foam mattresses.
Pocketed springs improve spinal alignment for back and side sleepers. These individually pocketed coils provide edge-to-edge zoned support, responsiveness to pressure, and durability so your bed stays comfortable for many years.
It's important to note that pocket coils are not the same as you'd find in a traditional spring mattress. The pocketed technology improves responsiveness, reduces motion transfer, and eliminates that awful spring creaking you associate with old-fashioned beds.
Hybrid Cover
This is the soft top layer sheet-like surface that contains the various layers. It may not sound as impressive as gel-infused memory foam, but it's just as important. It supports the cooling technology rather than hindering it and provides optimal comfort in any sleep position.
It also protects what's inside, so your mattress lasts.
What Does a Hybrid Mattress Mean?
You create a hybrid of something when you take things that are not alike and put them together. As a general rule, in nature, agriculture, and manufacturing, a hybrid is better than the parts you combined because those parts complement each other.
In terms of Hybrid mattresses, they combine the benefits of several types of mattresses into one very comfortable mattress. Doing this was no easy feat. It took years of research into what makes the perfect hybrid and delivers the best night's sleep.
At the same time, hybrid mattresses eliminate the dislikes some people have with all-foam mattresses, all-gel mattresses, latex mattresses, or traditional innerspring mattresses.
Leesa Hybrid Mattresses
We take your good night's sleep very seriously. Through years of research and development by top minds, we've developed an advanced hybrid that seamlessly combines all the benefits of memory foam and pocketed springs to deliver the most supportive, comfortable, cooling mattresses out there.
During the research process, Leesa decided to do things differently than others in the hybrid mattress industry. Our engineers removed the gel found in many hybrid mattresses, exchanging it for hole-punched foam. This improvement provides all the cooling of a gel cooling mattress without the discomfort or added weight associated with gel foam or latex.
People who love the contour of memory foam but prefer innerspring support will love this type of mattress.
The recognizable gray and white hybrid cover layer is so soft that you won't want to put sheets on the bed. But we recommend it to protect the look and feel of your mattress.
Below it, we have a comfort layer made of responsive high-density, hole-punched foam. Beneath that, you have a memory foam layer which allows the top cooling foam layer to contour and cradle your body. And finally, we've added 1000 pocketed spring coils to provide zoned support and stability while reducing the noise and motion transfer associated with traditional innerspring mattresses.
You can try a Leesa Sapira Hybrid Mattress free for 100 nights to see if it's the right mattress for you. If this doesn't beat your old traditional innerspring mattress, all-foam mattress, latex mattress, or other hybrid mattresses hands-down, you can send it back. We'll even pay the return shipping in the 48 contiguous states. In the mattress world, you can't get much better than a Leesa Sapira Hybrid.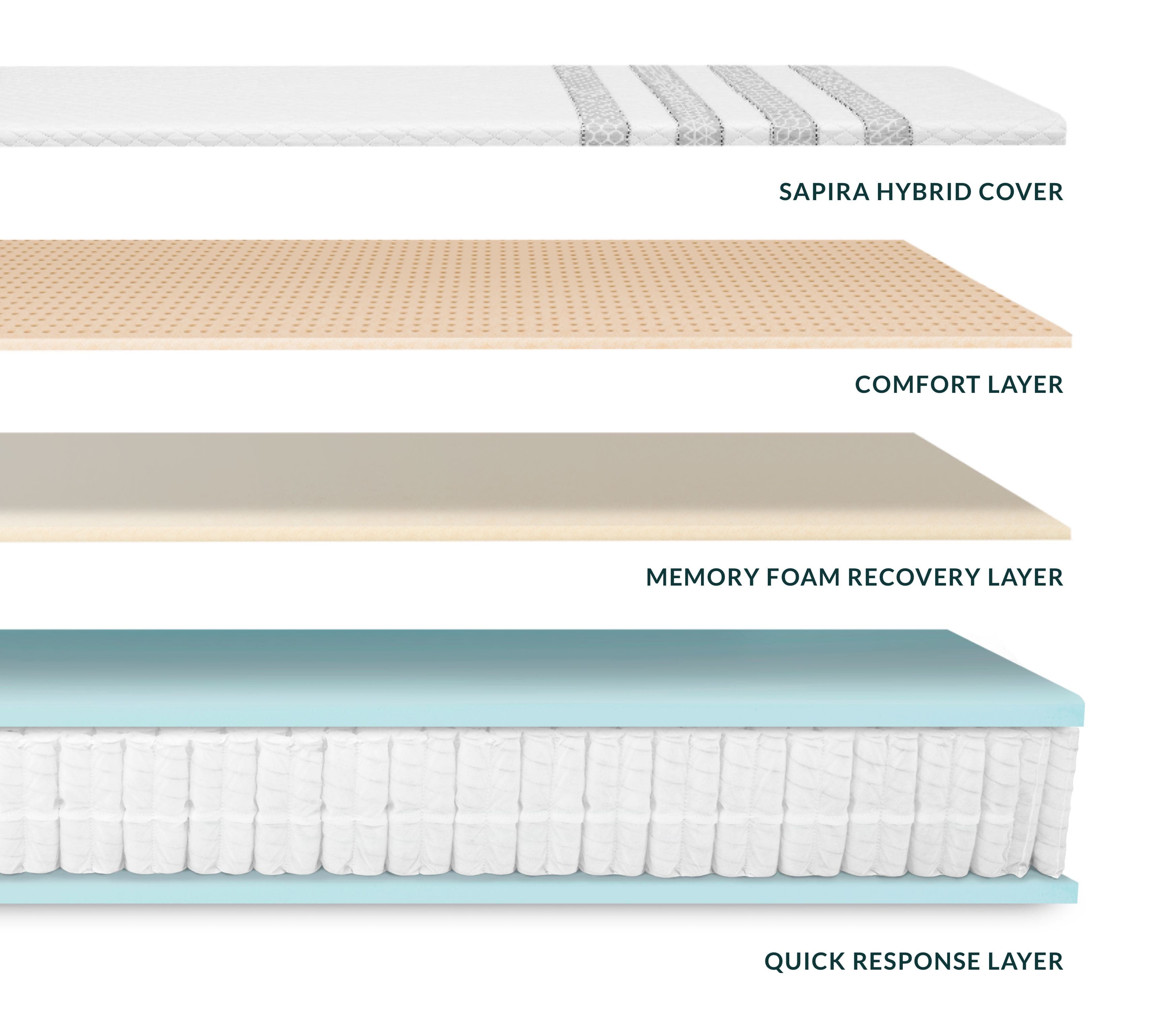 Leesa Sapira Hybrid Comfort Chart
A Leesa Sapira Hybrid is a 5-7 on the comfort chart. This medium-firmness is perfect for all sleep positions, including back, side, and stomach. Its advanced design relieves pressure, improves alignment, and even reduces lower back pain.

Hybrid Mattress vs. Memory Foam
Memory foam mattresses solve a lot of the problems with traditional mattresses. They usually contain multiple layers of contouring memory foam technology and a cooling foam layer on top of a more supportive base layer. They sure do beat a traditional innerspring mattress you'd buy in a mattress store.
Since you're here on our site, we could guess that you were searching for memory foam, and it can be an excellent option for a lot of people. However, many people prefer or need more support that can only be accomplished in two ways. Either you're settling for a heavy, traditional innerspring mattress from one of the usual mattress companies or choosing a hybrid from Leesa instead.
Recommended for you: Hybrid VS Memory Foam VS Spring Mattress: How to Choose | Leesa

What are the Pros and Cons of a Hybrid Mattress?
First, some pros.
Bone and joint support - Hybrid mattresses offer your body a combination of contouring comfort and optimal support for all sleeping positions. This allows for a more restful, relaxing, supported sleep that naturally reduces neck, hip, shoulder, and back pain.
Pressure point reduction - The traditional mattress relies on your hips and shoulders to support the body, but this ends up putting extra pressure on those areas that can lead to pain when you stay in one position too long. Many people try to sleep on their backs to reduce the pressure. But if you snore or have sleep apnea, back sleeping can cause more problems than it fixes. The memory foam technology is found in hybrid contours and cradles the body in comfort.
Pocket coil support - Years of spinal misalignment in the neck and back while you sleep will eventually cause pain and sometimes misalignments that don't resolve when you get out of bed. The pocketed coils ensure you don't have to sacrifice support to relieve pressure.
Cooling technology - Hybrid mattresses will include a cooling system, whether using gel or Leesa's innovative hole-punch system to cool the body by adding extra weight to the mattress.
Some cons include:
Cheaper hybrids may trap heat - Memory foam naturally insulating so it traps heat. You need a method to disperse that heat. Some mattresses will not have a cooling feature. If you're a hot sleeper, this can be a dealbreaker.
Memory foam isn't for everyone - Believe it or not, some people don't like the contouring feeling of memory foam and prefer the firmness only achievable with innerspring mattresses. There's nothing wrong with that. That's why Leesa lets you try our mattress for 100 nights risk-free.
Hybrid mattresses tend to cost more - They're still less expensive than a comparable quality innerspring mattress. Still, because more goes into making the perfect hybrid mattress, they will cost more money.
Weighs a little more than all-foam - When compared to an all-foam memory foam mattress, the hybrid weighs an additional 30 pounds or more, depending on the size. But it will weigh less than the same size innerspring mattress.
Who Should Get a Hybrid Mattress?
Those who appreciate the contouring comfort of memory foam but also need the support of pocketed springs will probably find that a hybrid delivers the best night's sleep.
Those who toss and turn or wake up hot at night will be surprised how much more soundly they can sleep in a hybrid bed.
How long does a hybrid mattress last?
The life of a hybrid mattress is similar to that of an innerspring mattress. It can last seven to 10 years on average, depending on the quality of that mattress. However, if you take good care of it, a hybrid mattress will provide optimal comfort for much longer. Rotate it every three months to promote even wear. That's head to foot, not front to back.
One of the significant issues with innerspring mattresses is that they start to sag in the middle at around year five to seven. This gets more noticeable as you approach year eight. At that point, some people find sleeping in the bed unbearable, especially if they already have back pain. Hybrid mattresses don't have this problem and tend to wear out more evenly, so you can stay comfortable longer.
We still recommend you replace your mattress every 10 years for optimal comfort, but you won't find yourself in a "need a new bed" emergency like you might with low-quality all-foam mattresses or innerspring mattresses. We're so sure of that that we offer a 10–year replacement warranty.
Is a Hybrid Mattress Good for Back Pain?
The short answer is yes. Here's why.
Many mattress showrooms will suggest "the firmer the better" when you have back pain. You can find dozens if not thousands of memes and pop culture references to people sleeping on very hard surfaces like floors or tables to treat back pain. But that's a harmful over-exaggeration.
The truth is that, yes, you do need support. But you also need to be able to maintain the natural curve of your spine. A "hard" bed flattens the spine unnaturally. But a hybrid bed combines optimal support with contouring comfort, promoting healthy spine curvature.
Are you ready to experience the contouring comfort of a Leesa Sapira Hybrid bed for yourself? Get your 100 nights to try a Leesa Sapira Hybrid Mattress. Learn more about hybrid mattresses.
FAQs
Do hybrid mattresses need a box spring?
Hybrid mattresses tend to be less comfortable when placed on a box spring. Ideally, you'll want to use a different kind of bed foundation, which is generally less expensive and better looking than a box spring anyway. The most common are platform-style or a metal frame with wood slats (2X4s work) to support the bed. Whatever you do, please don't try to put your Leesa in a metal frame without properly spaced slats. This will sag and damage the mattress.
Are hybrid mattresses firm or soft?
A hybrid mattress ranks at medium-firmness on the firmness scale. Those who currently think they must have an ultra-firm bed may be surprised by how different it is to get the right kind of support rather than just maximum support.
Are hybrid mattresses good for side sleepers?
Yes! Side sleepers need a mattress that targets pressure points in their hips and shoulders to avoid feeling sore and achy in the morning. Hybrid mattresses provide a comfortable, pressure-point-relieving surface which adapts to the movement of your body throughout the night, allowing you to wake up feeling rested and ready to begin your day.
Can you flip a hybrid mattress?
Unlike traditional mattresses, hybrid mattresses shouldn't be flipped since it results in sleeping on the bottom of the springs instead of the memory foam layers. Ideally, you should rotate your hybrid mattress every six months or every three to six months if you share a bed with someone else.
Is a hybrid mattress firm or soft?
Combining both firm and soft layers makes a hybrid mattress a medium-firm product, somewhere between a cloud-like regular mattress and a firm memory foam mattress. The different materials used in a hybrid mattress offer pressure relief, support, comfort, and bounce, among other benefits.
What is the difference between a hybrid mattress and a regular mattress?
Hybrid and regular mattresses differ primarily in their design. First, it is essential to note that hybrid and innerspring mattresses contain coil systems. Still, hybrid mattresses come with pocketed springs, making them medium-firm, whereas regular mattresses come with interconnected grids, making them firmer. Furthermore, hybrid mattresses include a thick foam comfort layer and a transitional layer, as opposed to a regular mattress that features a thin cushioned comfort layer.