A good night's rest for back sleepers depends on the right mattress to provide spinal alignment and pressure relief. When shopping for the best mattress for back sleepers, it's important to select one with the right level of firmness for your body type since sleepers of different shapes and sizes have different needs. You'll also need the right pillow for your sleeping style. With so many options available to you, let this be your guide in helping you choose the best memory foam mattress for you.
How do I choose a mattress if I sleep on my back?
Back sleepers, stomach sleepers, and side sleepers alike all need to consider the type of mattress they choose for a comfortable night's sleep regardless of sleeping position.
When you're looking for the right mattress it's important to consider the type of mattress that suits your sleeping position the best. Whether it's a memory foam mattress, hybrid mattress, or a traditional innerspring mattress, each type of mattress comes with varying degrees of firmness, comfort, and support.
Back sleepers specifically should consider the mattress' firmness. While firmness is up to your personal preference, the best firmness for a back sleeper is something not too soft and not too firm.
What Mattress Features Are Important for Back Sleepers?
The most popular choice in mattresses for average weight back sleepers are medium firm mattresses. The medium-firm feel is the most comfortable for back sleepers because it prevents the heavier parts of your body from sinking too deeply into the mattress, keeping your spine in neutral alignment while cushioning your shoulders, hips, and lower back.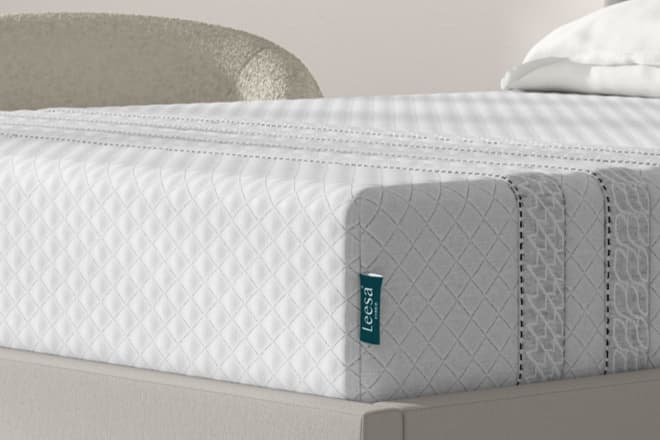 Meticulously designed mattresses for better sleep. Expertly crafted with high-quality materials for cool comfort and support.
Shop Now
Heavier weight-back sleepers prefer a firmer mattress that provides the extra support they need. Lighter weight-back sleepers can get away with a softer feel.
The is our spring and foam mattress choice. It features cooling top layer foam, memory foam, and the support of individually-wrapped springs for enhanced support for back sleepers. The Leesa Hybrid mattress is an expert favorite: Wirecutter named it The Best Memory Foam Mattresses You Can Buy Online and it's also Business Insider's pick for Best Mattress Overall.

Our offers a dual-hybrid wrapped spring system for targeted pressure relief where you need it most, which, as a back sleeper, is your hips and lower back. It features the same great cooling foam and memory foam and individually wrapped springs as our hybrid, with an added layer of micro springs for our most advanced support.
If you and your (which many couples do), don't worry. A memory foam mattress is a perfect compromise. Because Leesa mattresses have an adaptive feel, they're great for every body type and sleeping style, especially back sleepers.
Is memory foam the best type of mattress for back sleepers?
So, what makes a foam mattress so great for back sleepers specifically? A memory foam mattress will adapt to every body type and sleeping position (whereas a latex or traditional innerspring mattress may not).
Memory foam mattresses also give you exactly what you need in a mattress: they provide the support you're looking for as a back sleeper with the comfort you want in a mattress. In addition, is made with responsive and adaptive foam that keeps you cool while you sleep for all of our hot sleepers out there. A foam mattress will keep your spine and neck aligned so that you wake up ache-free after.
Responsive top layer foam makes up the top layer of our mattresses, too, as well as supportive memory foam layers. What makes these mattresses different from our Original is the layers of individually wrapped springs. Wrapped springs provide enhanced support where you need it when you sleep, contouring your body so you wake up pain-free. (Psst! The Legend has two layers of individually wrapped springs, with a micro spring layer for our most advanced support.)
Often, when people think of mattresses and mattress shopping they picture squeaky innerspring mattresses and big showrooms with too many options. But getting a new mattress doesn't have to be a nightmare! We've established that the best mattress for sleeping on your back is foam, but there are so many companies and mattress options.
You can order a Leesa mattress online and have it shipped directly (for free) to your door in a box. Open the box, take off the plastic and watch your Leesa mattress come to life. Then, you get 100 nights to decide if you love it and if you don't, you can send it back for a full refund (with a free return!). No squeaking, no sagging, and no showrooms!

Tips for Sleeping Comfortably on your Back
Now that you've identified the best medium firm mattress for back sleepers and you're ready to get comfy, if you're an aspiring back sleeper, it can be hard to change your sleeping position, especially if you've been a side sleeper or a stomach sleeper for a long time. You may have to practice for a while if you want to start sleeping on your back regularly.
If you're trying to learn how to become a back sleeper, here are a few tips to help you out.
Begin by lying completely flat on your bed. Try lying down with your arms by your sides, raising them above your head in a goal post position, or stretching them out straight on either side. If you sleep alone, try the starfish position, which involves pointing your arms and legs toward the corners of the bed.
Elevate your upper body by using an or a set of pillows that are angled. This may help you stay on your back while sleeping.
For pressure relief on your spine, keep it aligned by placing a pillow or rolled-up towel under your knees.
Make a cushion barrier on either side of you. This will cradle you while sleeping on your back and prevent you from turning over. Rest your arms on a pillow on either side of you for extra comfort and security.


What are the best pillows for back sleepers?
Finding a great pillow is just as important as finding a supportive mattress. Ideally, your neck needs to be in a neutral position, slightly elevated, while you sleep. This can help prevent waking up with neck pain and can be helpful for people with sleep apnea.
At Leesa, we have two different pillows: the Leesa pillow and the Leesa hybrid pillow, both of which are great for back sleepers. The Leesa pillow is supportive and made with cooling premium foam—the perfect complement to your Leesa mattress. If you prefer a more customizable pillow, the is adjustable and reversible, with a down-like pocket side and a reversible cooling side. It can be tailored in four ways, so you can create your perfect pillow. Both pillows will give your neck the support you need if you sleep on your back.
Ready to get a good night's sleep? Let Leesa guide you to the and for sleeping on your back.
FAQs
Is memory foam better for back sleepers?
Memory foam mattresses are often considered to be the best mattresses for back sleepers because they cradle the heavier parts of the body and relieve pressure on the spine. Spinal pressure relief and alignment are of the utmost importance when selecting a mattress.
How long does it take to break in a new mattress?
It usually takes about 100 days to break in your new memory foam mattress. The higher density of the memory foam the longer it will take to break in. All memory foam mattresses soften over time, but not enough to change it from a medium firm feel to a softer feel.
Is a firm or soft mattress better for back sleepers?
Medium firm to firm mattresses are the best mattresses for back sleepers. Average weight sleepers tend to prefer medium firm mattresses while heavier sleepers prefer a firmer feel. Lightweight back sleepers are often comfortable on a softer mattress.