Let's be honest. A king-size mattress is the ultimate in luxury. You can spread out and have your own space or get cozy and snuggle with your partner. Plus, you can spend time with your kids and furry friends without cramming into the bed. With a king-size mattress, you'll get a good night's rest and wake up raring to start your day.
There's a wide selection of king-size mattresses - there's the regular king, California king, or the split type king. With these models to choose from, you're sure to find one that fits your lifestyle.
If you have space, and the budget, treat yourself and your family to a king-size mattress (and get better sleep, too). If you're still on the fence about whether to get one, here are five excellent reasons you should upgrade to a king-size mattress.
A king-size mattress gives you more bed space
You and your partner can have your own space
It's the perfect space for family time
You'll get better sleep
Your bedroom will be amazing
Frequently Asked Questions (FAQ).
1. A king-size mattress gives you more bed space
The first and the most obvious reason a king-size mattress is amazing: you have a king-size bed with a lot of space! Think about it: a queen size bed is 60 inches wide. That gives you and your partner only 30 inches of personal space. (That's only slightly bigger than a crib mattress, btw.) For a lot of people, that's not enough.
However, a king-size bed is 76 inches wide, giving each person 38 inches of their own comfort space. That's almost a twin mattress for each person—a twin-size mattress is 39 inches wide.
A California king-size bed is not quite as wide as a king bed, but it gives you four extra inches of length, so it's great for taller people or back sleepers who like to sleep with their arms overhead.
2. You and your partner can have your own space
Leesa Sleep understands your bedroom is more than just where you sleep. It's where you read, (binge) watch TV, fold laundry, get work done, and catch up with your partner and kids, too. That's why having a king bed is so great.
With a king mattress, you and your partner both have your own space when you need it (almost a twin bed, remember?).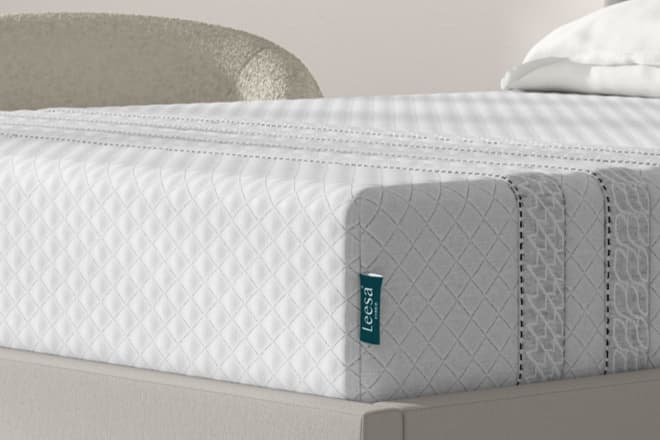 Meticulously designed mattresses for better sleep. Expertly crafted with high-quality materials for cool comfort and support.
Shop Now
For example, you can put a lot of pillows on your side of the bed even if your partner doesn't like it because there's enough space that it doesn't bother your significant other. Plus, just because you have all that extra space doesn't mean you can't get close and cuddle at bedtime if you want to.
Do you sleep solo? Maybe you share your bed with a furry friend (or two!). If this is the case, then having a king-size mattress will ensure you have enough space for you and your furry friends to have a comfortable night. Find the right mattress for your lifestyle here.>>
3. It's the perfect space for family time
Not only does a king-size mattress give you and your partner your own sleeping space, but when it's time for a movie marathon or a little family bonding, having a king-size bed means there's room for everyone else, too. Your king bed will fit the whole family, fur children included with space to spare.
A king-size bed can be a great option if you have small children for the times when nightmares strike. Sometimes young children need to be with mom and dad to feel secure and get a good night's sleep.
If you have a furry friend who likes to sleep with you, a California king-size mattress might be the right choice. A California king-size mattress has a few extra inches at the bottom, so you'll both be comfortable (and be able to spread out) all night.
Please read our complete Mattress Size Guide here. >>
4. You'll get better sleep
People have different sleep habits. Some people sleep in one position, others at their back while others kick, flail, and roll. With these in mind, a king-size mattress will give you and your partner room for your individual sleeping habits.
If you and your partner are sharing a full-size mattress or queen-size mattress, you're probably bumping into each other when you sleep. It can be cozy and romantic at first, but if it happens all the time, it can get quickly get annoying. With less space in a smaller bed, this situation is likely to happen, waking you (or both of you) up. In a king-size bed, you'll both get the rest and sleep you need, even if one of you has a habit of rolling around.
Have a hard time sleeping in the same bed as your partner? Please check out Sleep Like the Dead: Partner Edition.>>
Even if you sleep alone, a king-size bed can provide superior body support, granting you get the correct type of mattress. So, it could be an excellent option if you're struggling with arthritis or joint pain.
5. Your bedroom will be amazing
Any bed with clean, beautiful, elegant bedding is appealing, but a perfectly-made king-size bed? Come on! A well-made king-size bed is not only inviting to get in every night but will help make your bedroom look just like your "Bedroom Oasis" Pinterest board.
There are many styles you can try. You can go for a romantic, boho, elegant, or minimalist look, to name a few. The styles you can try are limited only to your imagination.
If you want to make your king-size bed more lavish, you can put a fancy headboard and different-sized pillows on top. You can also put your king-size bed on a Leesa platform bed or Leesa adjustable base for the ultimate luxury bedroom. Or, don't put a bed frame at all. You can set the bed mattress directly on the floor. That's how flexible the mattress is!
Do you want some inspiration on styling your king-size bed? Learn how to create a cozy, beautiful bed here.>>
Get a Better Rest With Leesa
Regardless of what king-size mattress fits your lifestyle best, you'll get better rest on a Leesa. You can choose from three fantastic mattresses: the Leesa mattress, the Leesa Sapira Hybrid mattress, and the Leesa Legend Hybrid mattress.
The Leesa Mattress is a memory foam mattress in a box. It has the right amount of spring and supports you want in a bed. It has a gray, soft and breathable twill cover, with Leesa's signature four-stripe design.


The Leesa Sapira Hybrid mattress combines a foam mattress and individually wrapped springs. Together, these offer you unrivaled comfort and support.


The Leesa Luxury Hybrid mattress has two layers of springs – individually wrapped springs and micro coils. These provide you with edge-to-edge and hip and shoulder support.


Compare all 3 of our (excellent) mattresses, here.>>
Ready to get the rest you've been dreaming of? Upgrade your bedroom sanctuary with a king-size bed, and start getting your best sleep with Leesa.
FAQs
king-size bed vs. queen size bed: What's the difference?
A king-size bed is 76 inches wide and 80 inches long. With this size, the king-size bed is a popular option for couples. A queen-size bed is 60 inches wide and 80 inches long. Queen size can be an excellent choice for single sleepers or couples who don't sleep with their children or pets.
What size is a king-size mattress?
A king-size mattress is 76 inches and 80 inches long. The mattress thickness can vary anywhere from inches to more than 14 inches. If you are planning to purchase a king-size mattress from a store or a website, it's recommended your mattress thickness should be at least 10 inches.
How big is a California king mattress?
A California king mattress is a variation of a king-size mattress. It measures 72 inches by 84 inches. This measurement makes it four inches longer and four inches narrower than the king-size mattress. Its features make it an excellent option for taller people or if you like to sleep with your pets at the foot of your bed.
What is a split king mattress?
A split king mattress is two twin extra-large mattresses put together. The size of the two mattresses equals the size of a king-size bed. Since each mattress is independent of the other, it can be a good option for couples with different sleeping preferences.
How much does a king-size mattress weigh?
A king-size mattress can weigh between 130 to 180 pounds. The weight depends significantly on the type of materials it's made of. Mattresses with tight coils are heavier than a mattress made only with foam.
How to move a king-size mattress?
If you're moving, and you want to take your king-size beds and your king-size mattresses with you, the first thing you need to ask is if it's worth it to even bring the mattress with you. Remember, you need to replace your mattress every six to eight years. If the bed is still good, and you want to take it, here are the steps to move it.
Prepare the mattress for moving. This means taking out everything from the mattress, and if you have storage underneath your bed frames, take those out as well.
Pack the mattress. It would be best if you got a mattress bag, plastic sheets, a box, moving straps, and pads to protect your mattress. Remove the mattress from the bed frame using the straps on the side ( if any). Depending on how strong you are, you might need somebody to help you do this. Slide the mattress into the bag and the box. Seal the mattress with the plastic sheet and reinforce it with the moving straps.
Lift and Move the Mattress. When moving the mattress, remember that the mattress could be heavy, depending on the material it's made of. It's recommended to get another person to support you when moving the mattress. If you're carrying it directly to the moving truck, the ideal position is to stand it on edge. However, it's best to consult the manufacturer's instructions because you need to lay some mattresses horizontally.
How much is a king mattress?
If you want to buy a king mattress, price is one of the essential things you want to know. The king mattress price can range anywhere from $250 to $3,500. Many factors affect the price of a king mattress. Some of them are:
The material and construction of the mattress. The more expensive the material, the pricier the mattress will be.
Online versus in-store purchase. Typically mattresses bought at an online shop have a lower price than those you purchase in a brick and mortar store.
Shipping and set-up. Depending on where you are in the country, you might have to pay for shipping and set up your new mattress.
Deals, sales, and discounts. When you go shopping for a mattress, whether online or in-store, make sure to look at what type of promotions the shop has. These discounts can go a long way in making sure you get an excellent price for your mattress.