A building is only as solid as the foundation, and that's a great analogy for why you should take care with choosing your bed base. Yes, an excellent mattress is an important step toward getting better rest, but you may want to consider your bed's foundation to have the best sleep of your life. You've got several different options when it comes to a foundation for your mattress, from simple slats to adjustable bases. Check out our foundation breakdown to help you decide what base will work best for you.
Do I need a bed base?
The short answer is no. You don't have to have a bed foundation. However, we strongly suggest that you place your foam or hybrid mattress on some kind of base.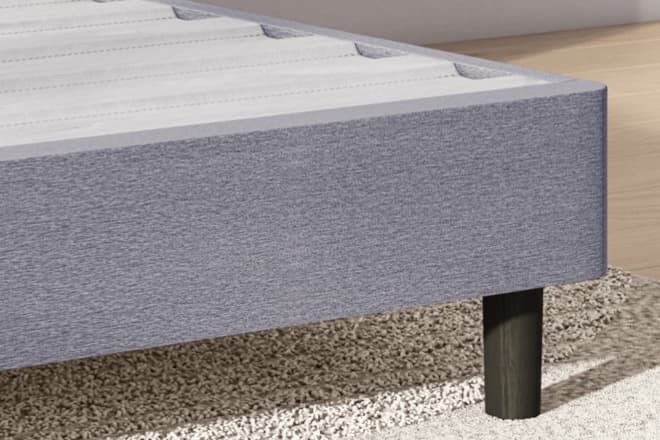 Extend the life of your mattress. Leesa Bases offer strong, sturdy support options to upgrade your sleep.
Shop Now
By putting your
Original
,
Studio
,
Sapira Hybrid
, or
Legend
Hybrid
mattress on a foundation, you're giving your mattress the base it needs
to support you best, whether you're lounging around or catching some
serious zzz's.
Some whys to using a bed base
Because foam mattresses like Leesa's are usually a little heavier than traditional mattresses, we do not recommend that you use a box spring under your mattress. Your mattress needs a mattress base that's more solid—a box spring won't provide the right amount of even support and may eventually cause your mattress to develop uneven sagging. Ugh. Your poor lower body.
We also don't recommend setting your memory foam or hybrid mattress directly on the floor. Not only does carpet provide an uneven, soft base, your mattress is also more vulnerable to allergens, dirt, dust, pet hair, and moisture on the floor.
Types of bed foundations
There are many bed base options—from low profile bases to more substantial pieces of furniture—so there's something for everyone. If you don't like the look of a traditional frame and foundation or want something more minimalistic, you could try a bunkie board or slats under your mattress. Both options offer a flat but supportive surface for your bed. A bunkie board is usually a 2-inch high large, flat piece of wood covered in fabric that can sit on the floor, in a bed frame or foundation.
Slats are individual pieces (usually made from wood) that lay across your bed foundation to support your mattress. Many slats come pre-connected to each other for easy setup. Both bunkie boards and slats offer low-profile, affordable bed base options.
You also have the option of a metal or wood base. Metal bases range from a simple frame (which usually requires a platform, bunkie board, or slats on top) to platform beds to adjustable bases. Wood bases offer similar options as metal bases, from simple platforms to more complex wood frames with headboards and footboards.
Why should I purchase a bed base from Leesa?
You get what you pay for, right? You buy a mattress base from Leesa just like you bought a mattress from Leesa instead of Tempur Pedic. Sure, you could go to another vendor for discounted mattress bases or platform beds, but do those options offer the quality of a Leesa product? Are they compatible with Leesa mattresses and other accessories?
Leesa's mattress bases are designed specifically for Leesa mattresses
At Leesa, we offer a few different mattress bases that are perfect for your Leesa Original, Leesa Studio, Leesa Sapira Hybrid, or Leesa Legend Hybrid mattress. Our traditional bed frame offers low-profile support for your mattress and requires a Leesa Mattress Foundation for stability. The Leesa mattress foundation offers a low-profile support system for your bed and is made with fabric that coordinates with your mattress for an aesthetically pleasing bedroom. Caveat--because the mattress foundation is low-profile, it may not be the best option for someone who is elderly or with chronic knee pain.
Or take your sanctuary to the next level with the Leesa platform bed. This minimalist mattress base is built to last. Exterior wood trusses are built with premium-grade spruce, pine, and fir (SPF), and enclosed with grey upholstery. The head and foot trusses include 10-gauge steel end bracket connectors. The wooden legs screw securely into the base. To provide a steady, strong base for your Leesa mattress, the platform bed includes two decking slats made of birch wood with black woven material, providing steady, strong support for your Leesa mattress. The bed not only looks nice but also provides the ideal mattress base for a restful night's sleep, even for people with lower back pain.
Drum roll please: Leesa's fabulous adjustable mattress base
Way back in the day, adjustable beds were created for hospitals and long-term care facilities. Early ones were adjusted via a crank mechanism at the foot of the bed and included side rails to make sure the patient couldn't fall out.
Today's adjustable beds are a far cry from those early hospital beds. Adjustable frames have become a big deal, especially over the past decade. Today's adjustable bed frames are a genuine luxe purchase. So, if you're looking for the newest (and super cool) thing for your bedroom, check out the Leesa adjustable base, available in Queen, King, and California king sizes.
While an adjustable base provides the support your mattress needs for you to get good sleep, its other features are what make it a lifestyle choice. Position your bed however you like. Lift your head and upper body if you're lounging around (talk about movie night or watching TV!) or raise both your head and feet for spa-like relaxation. And no more neck pain while reading in bed.
This adjustable mattress base comes with all the features and accessories you can imagine. Two built-in USB ports make charging your phone or other devices easy. The adjustable bed base also has adjustable legs that can be changed by two-inch increments to provide the perfect bed height. The wireless remote allows you to customize your sleep position at the push of a button. Use the up and down arrow buttons to adjust the head and foot of your bed. Press the wireless remote button labeled "flat" to return the bed to the flat position or the "ZG" button, which moves the bed to a zero-gravity position. You can also use the wireless remote to turn on ahead, back, or foot massage mode. Ahhhh!
Adjustable beds offer a perfect solution for people who suffer from sleep apnea, asthma, or other breathing problems such as COPD, people who snore, those with acid reflux, and people who have a bit of trouble getting into or out of bed, and those with chronic pain. An adjustable base is also perfect for a couple who prefers different sleeping positions.
You can further customize your Leesa adjustable bed into a split King configuration by purchasing two Twin xl mattresses. Choose the Leesa mattress that suits each partner. Many sleepers prefer different positions; for instance, someone with sleep apnea may be more comfortable with the head of the bed raised a few degrees. No worries about overstressing the adjustable base--it's constructed of black powder-coated steel, birch wood, and polypropylene. And if you have a headboard you love, Leesa offers headboard brackets at an extra cost for the adjustable frame.
Leesa bundles for the win--beds plus adjustable bases--and more!
If you're considering a serious upgrade to your bedroom's comfort, luxuriousness, and sleep quality, check out Leesa's bundles. Our luxury bundles offer you your choice of a Leesa Sapira Hybrid or Legend Hybrid mattress, as well as an adjustable base and our waterproof TENCEL mattress protector at a 20 percent discount. Welcome to your new adjustable bed!
If you're ready to upgrade your sleep, come to Leesa. To create your ultimate sanctuary for better sleep, we also offer pillows, bedding, and other accessories for your comfort.
FAQs
What bed frames work with an adjustable base?
An adjustable base actually provides the support of a frame without you having to worry about a standard frame doing contortions while the bed raises and lowers.
What is a foundation for a bed?
If you currently have a traditional innerspring bed, you probably also have it sitting on a box spring. The box spring and the frame it's on provide the foundation for the innerspring bed. With a Leesa bed, we don't recommend using a box spring as a mattress base. This is because a box spring is designed for an innerspring mattress, not a Leesa mattress, which tends to weigh more than a standard mattress. Having the proper mattress base also extends the life of your mattress. Check out our variety of mattress bases and adjustable bed models to see which suits your needs and your budget.
Are bed foundations good?
Yes, very much so. Using a proper mattress base will prolong the life of your mattress, enhance your sleep to allow you to wake up feeling refreshed, and provide the support you--and your mattress--need. Foam mattresses, and hybrid mattresses, also weigh more than innerspring beds, so they need a particular type of bed base to support both you and the mattress.
How much weight can a Leesa mattress base hold?
The Leesa Original mattress is designed to support individual weights up to 300 pounds. The Sapira Hybrid and Legend Hybrid can support a weight of up to 350 pounds. Each Leesa mattress base is also designed to carry that capacity, as well as the weight of the mattress itself.
Where can I go to try out a Leesa mattress and mattress base before I make a purchase?
Leesa has multiple affiliates, including Pottery Barn and West Elm. Find one near you and check out what Leesa has to offer.