When it's time to level up your sleep and invest in a new mattress, you might run into an issue: how to get rid of your old mattress. Mattresses are big, heavy, and bulky, so when it comes to mattress disposal, you can't just leave it on the curb with your garbage cans. Well, you could, but the garbage collectors will probably just drive right on by.
Plus, mattresses are not designed to compress or break down. While this is great for mattress longevity, it also means that mattresses sit in landfills for years, releasing harmful greenhouse gasses as they slowly decompose.
So when it comes to getting rid of an old mattress, there are much better options than a landfill. You may be able to donate your mattress, recycle it, or use a junk removal service to responsibly dispose of it. We'll cover all the different methods of mattress disposal and show you how to get rid of an old mattress the right way.
Donating Your Mattress
If your mattress is in good condition and still has some life left in it, the best choice for mattress disposal is to donate it. Many charities and shelters accept undamaged, usable mattresses, and they may even come and pick them up from your home. But it is a good idea to clean your mattress first, so it's in tip-top shape for its new owner.
Donating lets you do some good in your community, plus it's a convenient way to get rid of an old mattress. You can keep an eye out for local individuals or charities who are in need of donations, or contact a national organization, such as:
You can also check out Donation Town—an online resource that helps you locate charities in your local area.
And if your mattress is still in okay condition—but not up to the charities' standards—check with your local animal shelters. They are always in need of supplies, and may welcome a mattress that's past its prime.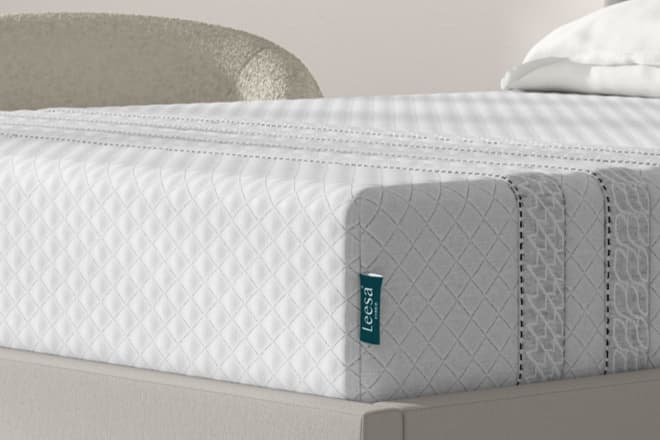 Meticulously designed mattresses for better sleep. Expertly crafted with high-quality materials for cool comfort and support.
Shop Now
Recycling Your Mattress
When you need to get rid of an old mattress that's at the end of its life, recycling is the most environmentally friendly option. All or most of the materials can be recycled or reused in some way, and it keeps more mattresses out of landfills. There's usually a recycling fee that you'll need to pay, but it's generally no more than $10-30.
The Mattress Recycling Council is a nonprofit organization that works to implement recycling programs throughout the U.S. You can use their website, Bye Bye Mattress, to find a mattress recycling center near you. Earth911 is another helpful resource for finding recycling programs or facilities.
And if you haven't found your new mattress yet, take our mattress quiz to find your perfect Leesa option. Our in-home delivery and setup services include haul-away and recycling—so you can get rid of your old mattress responsibly, with zero effort!
Hiring a Junk Removal Service
If you can't recycle or donate your mattress yourself, you can always hire a junk removal service. There are tons of local and nationwide companies that will pick up your old mattress and haul it away. However, since these companies charge by weight or volume, the fees can get a little pricey.
On the other hand, many national junk removal companies, like LoadUp and 1-800-GOT-JUNK, offer eco-friendly services and recycle or donate mattresses whenever possible. But keep in mind that if you have a bed bug problem, you might be out of luck. A lot of these companies refuse to accept mattresses with bed bugs.
Taking Your Mattress to a Landfill
Dumping it at the landfill is the most inconvenient and environmentally unfriendly way to get rid of an old mattress. Over 50,000 mattresses end up in U.S. landfills every single day, taking up enormous amounts of space, leaking flame retardants, formaldehyde, and phthalates into the soil and water, and releasing methane into the air. But we get it—sometimes there's just no other option.
So if your mattress is destined for the landfill, check with your city to see if they offer bulk or large item trash-pickup days. Or you may be able to schedule a bulk pickup, although this usually comes with a fee. If not, you'll have to get your mattress to the landfill on your own and pay for any disposal charges.
And for your new mattress, look for one that's eco-friendly and CertiPUR-US® certified — like all of Leesa's mattresses. Our foams are low VOC and made without flame retardants, formaldehyde, or phthalates.
FAQS
How can I reuse an old mattress?
If you can't give away, donate, or recycle your old mattress, here are some creative options to repurpose it and keep it out of the landfill.

Use the innersprings to make a wine rack, hanging pot and pan rack, room divider, lawn furniture, vertical garden…the sky's the limit!

Cut up an old memory foam mattress to create cozy pet beds, revive old cushions, make sleeping pads for naptime or camping trips, or even soundproof a room.

Give it to your garden—build a compost bin or planter box using the wood frame, compost the stuffing or use it as a weed barrier, turn the mattress cover into a plant or compost cover, and create an arch or trellis with the innersprings.
Is it OK to put a mattress on another mattress?
It might seem like a brilliant idea at firs —put the comfy new mattress on top of the old, less-comfy mattress for ultimate comfort levels. But, unfortunately, that's not the way it works. Your mattress needs stable support, otherwise you won't get as much use out of it. When you double-up your mattresses, it reduces airflow, retains moisture, promotes allergens, causes sagging, and increases wear and tear. It may even void your mattress warranty. So to keep your new mattress in excellent condition, it's best to get rid of your old mattress and give your new one the right support.