Foam, Spring, Hybrid Mattresses – What's the Difference?
We all know how important it is to get a good night's sleep. It's been well documented that sleep can improve our physical and mental health, playing a major role in our well-being.
Of course, getting enough sleep is easier said than done. People have trouble sleeping for many reasons, from stress to shift work to that one overeager neighbor who likes to mow his lawn on Saturday mornings. But the outcome is always the same — one way or another, not getting enough sleep hurts your quality of life.
A good mattress may not be able to solve all these problems, but it can play a huge role in the quality of your sleep.
A study from the Sleep Foundation found that 41% of respondents spent time tossing and turning at least a few nights a week, while almost a quarter had trouble sleeping because of movement from a partner.
If that sounds familiar, finding the right mattress could be the key to getting more Zzzs and waking up refreshed. But, how do you choose the right mattress? Foam vs. spring mattress? Latex foam or memory foam mattresses? With so many different types on the market, how do you decide?
In general, most mattresses on the market can be categorized as innerspring, foam, or hybrid. In this guide, we're going to explain exactly what this means, what the benefits and drawbacks of each type are, and who each type suits best.

What Is a Spring Mattress?
A spring or innerspring mattress is the most traditional mattress of the lot. It's likely what your parents had and their parents had, etc. A spring mattress's support system is typically made up of an interconnected system of steel spring coils.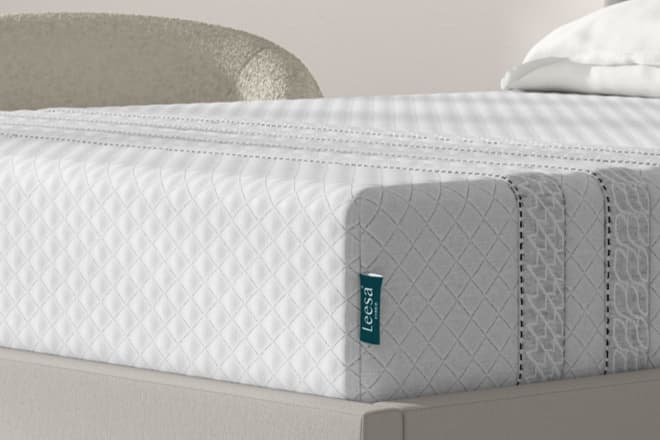 Meticulously designed mattresses for better sleep. Expertly crafted with high-quality materials for cool comfort and support.
Shop Now
The coils are usually crafted with steel wire of different gauges or thicknesses and lined up in rows designed to adjust support as you change your body position through the night. A note about coil gauge: the lower the gauge number, the firmer the coil spring. The steel used in mattress coils varies typically from 12- to 15-gauge varieties. So a mattress with 15-gauge coils will have a softer feel than the firm 12-gauge coil mattress.
Types of Spring Mattresses
Although all spring mattresses share the same basic concepts, there are a couple of different types to know about.
Bonnell Coils
This type of system uses hourglass-shaped springs throughout. Mattresses made with Bonnell coils are the least expensive, but also the least durable.
Offset Coils
These springs are also hourglass-shaped but connected at the top and bottom and set very close together, making mattresses made with offset coils very durable. The downside of this type of coil is that the interconnectivity of the springs doesn't limit motion transfer.
Continuous Coils
Continuous coils are made using one long piece of wire. The wire is formed into individual s-shaped coils. Like offset coils, continuous coils make a very durable mattress but may not provide the best motion isolation.

What Are 'Individually wrapped springs?'
More recently, individually wrapped spring technology has emerged in the mattress space. With wrapped springs, the coils are individually wrapped within their own fabric housing (rather than interconnected) to promote more responsiveness, freedom of movement, and enhanced support. The springs are housed in a padded shell and encased with various quilted, padded, and fabric layers. Leesa's Sapira Hybrid Mattress contains 1,000+ premium-grade steel springs engineered from about 20 feet of recycled steel billet.
Spring Mattress Pros
Innerspring mattresses can be cooler than foam mattresses since body heat can disperse more readily.
Spring mattresses tend to be less expensive than foam or memory foam.
Spring Mattress Cons
Metal coils offer less back support and pressure relief than foam beds.
Traditional spring mattresses can begin to sag if you use the same sleeping position most nights.
Who Should Choose a Spring Mattress?
Spring mattresses are a great choice for those looking for an affordable option, hot sleepers, and those who prefer firmer support.
What Is a Foam Mattress?
Today's foam mattresses are typically constructed of multiple types of foam layered to maximize sleep quality, provide superior support and facilitate maximum recovery during the sleep cycle.
If you've landed here at Leesa, you've probably been researching memory foam mattresses and want to discover the differences, the benefits, and the level of quality found in today's advanced and elegantly designed Leesa mattress. Foam mattresses consist of multiple layers, a foundation or base layer, a middle layer of body contouring memory foam, and a top layer to provide support and airflow.
What Are the Different Types of Foam Mattresses?
Foam mattresses are a newer addition to the market. Many companies use proprietary foams, which means that there are many different kinds, but they mainly fall into a few different categories.
Latex Foam
Latex is a natural material obtained from tapping the rubber tree. The process is similar to how maple syrup is produced, but instead of tree sap, the tappers collect the milky-white fluid found beneath the bark. This product is then made into commercial latex or natural rubber.
When used in latex mattresses, the liquid latex is turned into foam using a chemical process. The resulting material has some of the natural flexibility and bounce of any latex or rubber product — and it's a relatively environmentally friendly option.
Polyurethane Foam
Polyurethane is a plastic-like material used in all sorts of everyday objects. Its versatility means that it can take many different forms, and it's commonly used in the mattress industry.
Memory Foam
You're probably familiar with the image of a lasting handprint on memory foam often used in advertising for this popular product. But did you know that memory foam was originally developed to give more cushion to NASA test pilots? It's no surprise that it's become very popular to use memory foam in mattresses and anywhere else that could use an extra layer of comfort.
Foam Mattress Pros
Foam beds conform to your body, providing sufficient support and pain relief for pressure points.
Unlike spring mattresses, foam mattresses limit motion transfer, making them a great choice for couples.
Foam Mattress Cons
Depending on the composition, foam mattresses can hold onto body heat, making it difficult for those who sleep hot to get comfortable.
Before use, some foam mattresses need to be aired out (known as off-gassing).
Who Should Choose a Foam Mattress?
Foam or memory foam mattresses are a great choice for anyone who wants targeted support and for couples who want to limit motion transfer.
What Is a Hybrid Mattress?
This type of mattress is trending as an option for those who like the best attributes of both memory foam and innerspring mattresses. Essentially, the hybrid is an innerspring core encased by high-density foam and is topped with multiple layers of the same high-support memory and polyurethane foams used in trending memory foam mattresses. A hybrid may be the best choice for those who enjoy a blend of spring support but insist on the quality and contouring of memory foam.
Hybrid Mattress Pros
This mattress type offers a unique combination of support that can offer pressure relief for any sleeping position.
Manufacturers are now producing many different types of foam, memory foam, gel memory foam, and more for many different purposes. These foam layers can offer extra support, comfort, or even cooling to help reduce body heat.
Hybrid Mattress Cons
These mattresses can be expensive.
Most hybrids still need to be off-gas before use.
Recommended for:
This type of mattress is a great choice for people who tend to change sleeping positions throughout the night, hot sleepers, and couples who want a compromise between firm support and motion transfer.
How Can Leesa Help?
Shopping for a mattress has always been a stressful experience, but with new technologies and the advent of online mattress shopping, there are more options than ever. Foam vs spring mattress vs hybrid seems like just the beginning. Soft? Firm? Plush? Pillow-top or memory foam? Cooling gel-infused? Smartphone-enabled? The sheer number of options can be daunting, but what it really boils down to is: Does it help you sleep better?
At Leesa, we're committed to helping you get a better night's sleep. We want to help demystify sleep with helpful guides like this one and, of course, provide premium mattresses that employ the best technology from every type of mattress and at every price point.
We offer a variety of mattress types that fit a wide range of needs, from the affordable Studio Mattress to the luxury Legend Hybrid Mattress, we have something for everyone.
Leesa mattresses also come with a few perks. We offer free shipping straight to your door, 100 nights to make sure the mattress is a good fit, a 10-year warranty, and financing eligibility. Plus, all of our mattresses are designed and assembled in the USA.
To learn more, check out our full range of mattresses.
FAQs
What is a memory foam mattress?
Memory foam is a special type of poly foam that is designed to respond to the heat and pressure of your body. When it's compressed, memory foam springs back much more slowly than other types of foam. Traditional memory foam was developed for NASA in the 1960s, but since then a couple of developments have taken place. Air Cool Memory Foam is designed to compress more quickly which lessens heat retention. Gel memory foam is another type of memory foam that helps with heat retention and provides added durability and firm support. Memory foam mattresses are not made entirely of memory foam. Instead, layers of memory foam are used with layers of supportive foam and/or metal coils.
Which is the best memory foam mattress?
The answer to this question depends on many variables and may be different for each person. At Leesa, we've created the Legend Hybrid Mattress with a memory foam recovery layer that contours to your body offering relief to pressure points. Combined with our comfort layer, relief and stability layer, and quick-response layer, we think it makes the best memory foam mattress out there.
How long does a memory foam mattress last?
A memory foam mattress should last about 8-10 years. Memory foam should last just as long as any other mattress component, but of course, the durability of any mattress will depend on the quality of the materials as well as production methods. At Leesa, we offer a 10-year full replacement limited mattress warranty.
How do I dispose of a mattress and box spring?
The way to dispose of a mattress and box spring will depend largely on where you live, what kind of recycling centers or charity programs are nearby, and where your new mattress is coming from. Some charity and recycling centers will accept mattresses and some cities have programs for the pick-up of large objects. If your new mattress is coming from Leesa, you can opt for in-home delivery and setup at checkout. It includes removal of your old mattress and box spring and set up of your brand new Leesa products.
What is an individually wrapped spring mattress?
An individually wrapped spring mattress is made up of individual springs which are each wrapped in their own fabric pocket. The fact that the springs remain separate means that the mattress can offer a lot more responsiveness than a traditional innerspring mattress. Individually wrapped springs are usually padded with foam or fabric and surrounded by a comfort layer.
Where can I buy a box spring mattress?
If you have a traditional innerspring mattress, you'll want to use a box spring with it. You can buy a box spring mattress at any traditional mattress store, however, foam and hybrid mattresses are becoming more common. If you're looking to support a foam mattress or a mattress with coils and foam, we don't recommend using a box spring. Instead, try a platform bed, adjustable base, foundation, or bed frame.
What is a hybrid mattress made of?
This type of mattress combines individually wrapped springs with latex, poly, and/or memory foam, but the exact makeup will vary depending on the manufacturer. Leesa's Sapira Hybrid Mattress combines more than 1000 individually wrapped springs with premium foam for both cooling and contouring. A breathable fabric cover also makes it soft to the touch.