We can all agree that it is hard to get up in the morning following a hot, sweaty, sleepless night. If you're wondering why it takes so long to fall asleep when it's hot, you're not alone! Body temperature regulation, also known as thermoregulation, is currently being studied by scientists.
Similarly to an elevated body temperature, humidity increases the likelihood of staying awake and decreases the amount of time spent in slow-wave sleep (SWS) or rapid eye movement sleep (REM). Consequently, when the temperature is high at night, it can be challenging to fall asleep and stay asleep.
The good news, however, is that the invention of gel-infused memory foam has spawned a whole line of cooling mattresses and products that claim to lower your body temperature and assist you with falling asleep. Due to Leesa's dedication to sustainability and not using harmful chemicals, our team has gone above and beyond to create an even cooler, safer night's sleep.
How Do Mattresses Contribute to the Cooling Process

Listen up if you're a hot sleeper and want to learn how to sleep cooler! A new mattress will not solve all your sleep problems by itself! Airflow must be achieved at all entry points into your bed, from the base to the covers, for the best results and to make your new bedroom items perform at their maximum potential. Air rises, so the air in your bedroom will be the coolest as you get closer to the floor.
To take advantage of this, you should sit your mattress on a box spring or slatted platform so that air can rise and enter the bottom of the bed. In addition, the standard design of many mattresses, including memory foam mattresses, allows air to pass freely through them.
Modern memory foam mattresses are made with "open cell" foam, which allows air to flow through wider, more open cells and dissipates heat. Airflow can also be encouraged by your sheets, covers, and pillowcases. Cotton and linen fabrics are particularly well-known for their airflow qualities since they have looser weaves.
What Other Factors Should I Consider for Sleeping Temperature?
The breathability of Sheets and Covers

Room Temperature & Climate

Choice of Pillow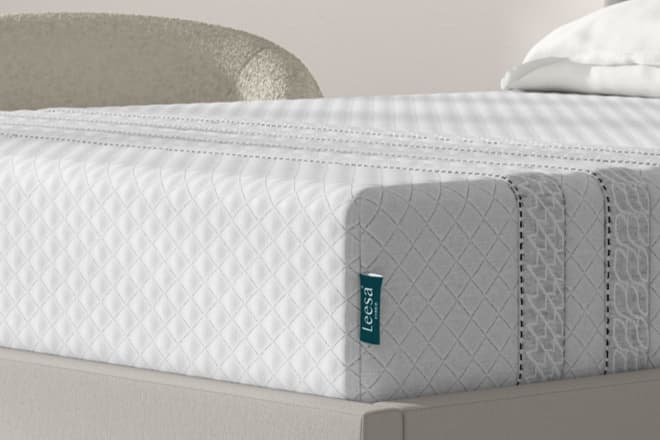 Meticulously designed mattresses for better sleep. Expertly crafted with high-quality materials for cool comfort and support.
Shop Now
Leesa's Cooling Process

You need to know the facts about cooling mattresses to make an informed decision. Some people believe that simply plugging in a mattress cooling system will physically cool them enough, but this is not necessarily true. If the mattress itself does not have the proper airflow, mattress cooling systems will have limited ability to keep you cool.
Some mattresses claim to be cooling but there are no physical cooling mechanisms or technology to enhance these beds. Additionally, manufacturers may rely on harmful chemicals to achieve a "cool to the touch" sensation, so we suggest you do thorough research before purchasing one of these mattresses.
Conversely, Leesa mattresses feature naturally cooling fabrics and materials with porous designs that allow air to flow through them. In the same way that a sponge releases water when pressed and returns to its original state when the pressure is released, changing mattress positions at night helps to naturally cool your mattress as it removes the hot air and absorbs the cooler air. As a result, Leesa's Legend hybrid mattress delivers exceptional cooling while maintaining the heavenly pressure relief you expect from Leesa memory foam mattresses.

Choosing bedding and comforters that allow air to escape your bed, return to your room, and circulate during your sleep is essential to ensure this process works effectively. Regardless of how cool your mattress claims to be, you will not be able to get the desired cooling experience if air gets trapped inside. Therefore, we recommend sheets made from natural fibers, such as cotton or linen, with a percale or sateen weave. These sheets are naturally breathable and tend to include moisture-wicking features. Sheet sets from Leesa, for example, are lightweight and promote airflow, making them the ideal choice.
Leesa Legend mattresses are a great way to sleep better, conserve energy, and save money. Take back your night peacefully. No need to crank up the air conditioner to fall asleep; relax, unwind and enjoy. Take advantage of our free shipping and our 30-day free trial on your next Leesa mattress purchase!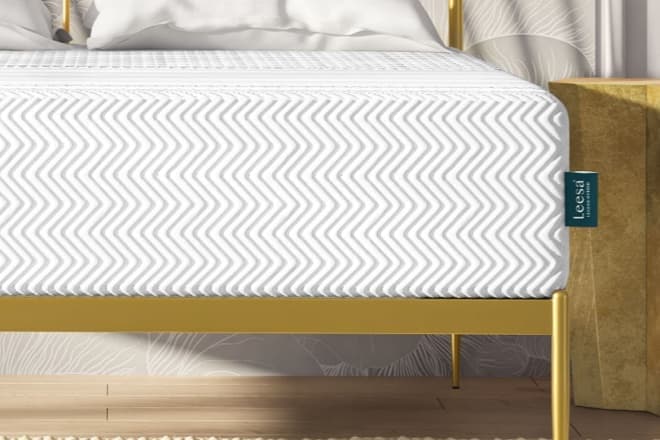 The Legend Hybrid Mattress is a luxury hybrid featuring plush, cooling comfort layers and two spring units for superior support.
Shop Now
The Right Mattress is Key to Your Perfect Sleep Temperature
You can't easily find suitable mattresses for hot sleepers, but they offer many benefits when you do. These mattresses will not only cool you whether you live in a warm climate or tend to sleep hot, but they also won't retain body heat after you sleep on them. Rather than absorbing heat, the bed disperses it, resulting in a lower body temperature.
The absorption and distribution of body heat will also result in significantly less sweating for those who tend to wake up with damp sheets, are tired of tossing and turning all night to feel colder, or flip their pillow several times during the night to feel cool. In addition, these mattresses are frequently constructed of multiple layers of memory foam to provide plush cushioning, pressure relief, minimal motion transfer, and alignment of the spine as well. The better spine alignment also provides less airway obstruction, improving anti-snoring effects!
Mattress Features to Consider for a Cooler Sleep
Responsive Foam Comfort Layer
In addition to offering deep sleep and ultimate ventilation, our Legend mattresses feature cotton and Merino wool cover that regulates temperature, wicks moisture, and is naturally hypoallergenic due to its resistance to bacteria, mold, and mildew. In addition, our unique hole-punched comfort layer, located directly under the cover, is composed of high-density, responsive foam. The hole-punched design provides the same cooling as a gel cooling mattress but without the added weight or chemicals.
Pressure Relief
Leesa Legend Hybrid mattresses are luxurious due to the five layers of highly responsive foam to ensure maximum pressure relief. With our recovery layer of memory foam, you get enhanced pressure relief on your shoulders, hips, and back by contouring your body. To further relieve pressure in the shoulder and leg regions, our second layer, our zoned support layer, comprises 756+ micro springs, surrounded by stabilizing foam that virtually eliminates motion transfer. As well as providing additional pressure relief, our transition layer ensures you don't rest directly on coils beneath the zoned layer. We also have the quick response layer, which contains a central layer of 15-gauge individually wrapped springs surrounded by two rows of 16-gauge springs to provide superior edge support. Finally, our base support layer provides support and durability for all body types.
Innerspring Core Support
The Leesa Legend hybrid mattress features 1,700 individually wrapped springs separated into two layers and supportive foams. There are two layers of dual springs, each of which is designed to focus and support a specific region; the foam surrounding these springs also reduces motion transfer. Both layers of micro-springs provide support for the hips, back, spine, and shoulders. Moreover, the second layer of individually wrapped springs increases the mattress's airiness.
When you're shopping for a new bed with mattress cooling features, make sure you know what each layer of the mattress is made of. Look for natural fabrics and materials as well as a design that is created specifically for maximum airflow as you change positions in your sleep. If you're looking for the ideal mattress for hot sleepers, look no further than the Leesa Legend. Get it shipped for free with a 30-day free trial and see for yourself. Cooler nights await!
FAQs
What is a cooling mattress?
A cooling mattress is beneficial to anyone, but those who sleep hot may find it especially helpful. The materials in cooling mattresses, such as gel-infused memory foams, cooling gels, and wrapped wire coils, regulate body temperatures, disperse body heat, and enable more airflow during sleep, which allows you to sleep comfortably and feel cooler at night.
What is the best cooling mattress?
Our recommendations for the best cooling mattress are hybrid mattresses. Hybrid mattresses provide support, comfort, and pain relief similar to memory foam mattresses and regulate your body temperature while you sleep. In the same way, you can purchase a hybrid mattress that absorbs heat and dissipates it quickly and thoroughly, just as a gel memory foam mattress does. Although we are biased, we firmly believe that our Legend Hybrid Mattress is the best cooling mattress that offers the best of both worlds!
What chemicals are used in mattress cooling?
Phase change materials are usually used to create cool-to-the-touch sensations in gels or gel beads. Several chemicals can be used to make phase change materials, but their formulas are rarely released, so it is impossible to determine what they are. Fortunately, many manufacturers are moving away from chemical-based beds, so today's mattresses are safe. However, it would be best if you are always cautious since not all harmful chemicals have been banned. We believe hybrid mattresses, such as Leesa's Legend mattress, are ideal in this situation. At Leesa, we rely on natural fabrics and materials, such as metal springs and our signature hole-punched designs, so you can get the cooling you desire without any chemicals and with maximum comfort.
Do cooling mattresses really work?
Even though some cooling mattresses can regulate body temperature, their effectiveness is highly subjective. If you plan to purchase a cooling mattress, be realistic about your expectations, especially given the research inconsistencies. Additionally, consider that several factors can affect the effectiveness of cooling gels, including the amount of cooling gel the manufacturer uses, your body temperature, and the temperature in your sleeping environment.

For example, mattresses containing a small amount of gel, such as 5-10%, may result in inconsistent and unreliable cold sleep. As an alternative, beds with gel content ranging from 25-30% may offer several hours of cold sleep; however, as the gel warms up as your body temperature increases, it is impossible to predict how long it will last. Therefore, your heat problem will not likely be solved by these mattresses.
How can you cool down a mattress?
Use a cooling mattress topper: Mattress toppers add comfort to mattresses, but cooling mattress toppers also cool you off to some extent.
Cooling pillows: These pillows provide a cool sleeping surface, draw away heat from the body, and increase airflow to ensure minimal heat retention.
Pillow cases and sheets: Invest in bedding made from cotton or linen to ensure extra breathability and airflow!
Freeze your sheets: Several hours before going to sleep, fold your sheets, place them in a bag, and freeze them. Afterward, put them on your bed. Then, you'll have a nice, cold bed to jump into, even if they don't stay cool all night!
Ice packs: For an instant cool own, place an ice pack wherever you can feel your pulse: your wrists, neck, the crook of your arm, or the back of your knees.
Hot water bottle: Ensure your hot water bottle is filled and placed in the freezer. Then, put it under your covers about 30 minutes before you want to go to bed, so it's nice and cool when you get ready for a good night's sleep.