Daybeds are multi-purpose, highly versatile pieces of furniture ideal for small spaces. But what is a daybed? Is it a couch, a guest bed, or a cozy napping spot? We'll share everything you need to know about daybeds—the benefits, what they look like, how they differ from other bed types, and even how to seamlessly incorporate this convenient piece into your home.
What Is a Daybed?
First, let's dive deeper into the question, "What is a daybed?" A daybed is a furniture piece that serves as both a bed and a sofa. Instead of just a headboard and footboard, daybeds have an extra frame along one long side—like the backrest of a couch.
Daybeds typically have wood or metal frames, and some are upholstered to look more like a sofa than a bed. They often offer extra storage space, like shelves or drawers, and some even have a pull-out trundle bed underneath for double the sleeping space.
Twin daybeds are the most popular daybed mattress size. You can find some larger Full or even Queen daybeds, but these bigger pieces can be awkward to use as couches since they're so deep.
Daybeds have a long history stretching all the way back to ancient Rome and Egypt, where they were commonly used for eating, socializing, and lounging. The chaise lounges and fainting couches that gained popularity in the 1700s and 1800s were adapted from daybeds as well.
Where Should You Put Your Daybed?
Now that we've answered the question, "What is a daybed?", let's take a look at where you can use these adaptable pieces. The short answer is: nearly anywhere! Since daybeds are so compact, you can put one almost anywhere you need extra seating, spare sleeping accommodations, or just a nice place to relax.
While guest rooms, offices, and living rooms are the most common spaces for daybeds, you can even find outdoor-friendly versions that turn your patio or porch into a cozy space for an afternoon nap. They're also a great option for a kid's room, giving them a versatile space to sleep and hang out with friends.

What Are the Benefits of a Daybed Mattress?
Daybeds are especially useful for small homes or rooms thanks to their versatility and practicality. They offer a unique blend of comfort, style, and functionality, so you can make the most of limited space.
Multi-Functionality
Daybeds seamlessly transition from a comfortable seating area to a cozy sleeping space—with zero work required. No pull-outs to wrestle with, no air mattresses to inflate, and no hard, lumpy futon mattresses to toss and turn on.
Space-Saving
By combining two pieces of furniture into one, you can maximize your space without sacrificing comfort or convenience. Whether you're trying to furnish a tiny studio apartment or your office doubles as a guest bedroom, you can stylishly make optimal use of the space you have.
Guest Accommodations
You probably want your guests to have a comfortable place to sleep when they visit, but you may not have an entire room for a full-sized guest bed. With a daybed, you can turn any space into an extra sleeping space for guests.
And for maximum comfort, make sure you're using a quality daybed mattress, like the Leesa Trundle Mattress. It's made with the same high-quality materials as our standard mattresses, so your guests will always get a good night's sleep.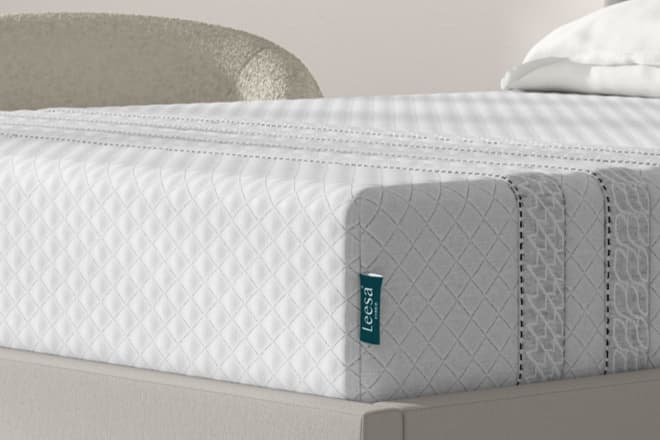 Meticulously designed mattresses for better sleep. Expertly crafted with high-quality materials for cool comfort and support.
Shop Now
Daybeds vs. Other Bed Frames: What's the Difference?
Daybeds are often confused with other space-saving options, so let's take a look at the key differences between them and other types of sitting and sleeping combination pieces.
Daybeds vs. sleeper sofas or futons
Daybeds, sleeper sofas, and futons are all bed/sofa hybrids, but a daybed frame is fixed, needing no conversions to go from seating area to sleeping space. Sleeper sofas and futons, on the other hand, need some adjustments.
Futons and sofa beds lift up at the base and fold out to form a flat sleeping area. Sleeper sofas, also called pull-out couches, have a frame and mattress stored underneath the seat cushions, which have to be pulled out and unfolded to form a bed.
Daybeds vs. Twin beds
While a Twin is the most common daybed mattress size, regular Twin beds lack the versatility of daybeds. A Twin bed is a traditional sleeping option with a standard bed frame and doesn't have the additional frame along one side to form a backrest.
Daybeds vs. trundle beds
Trundle beds are two-in-one beds where an additional mattress fits under the main bed and pulls or rolls out when needed. Some daybeds offer trundle beds as well, but standard trundle beds don't provide the seating areas that daybeds do.
Get Better Sleep with Leesa
If you're looking to maximize a small living space with multi-purpose, versatile furnishings, a daybed is a great option. It's a bed, a couch, a lounging area, and a napping spot all in one. You can add throw pillows or cushions for extra coziness and back support, then easily remove them to go from sitting to sleeping.
And if you're looking for a Twin daybed mattress that delivers comfort and support, try the Leesa Trundle Mattress. Made with superior-quality, non-toxic materials, our memory foam mattress always has your back—sitting, sleeping, and everything in between.
FAQs
What does a daybed look like?
Daybeds come in a variety of materials, from solid wood to metal to wicker, but they all have frames that extend around three sides. Some daybeds may have lower frames at the head and foot—more like couch arms than headboards and footboards—while others have high frames all the way around. No matter what your style, you can find a daybed that fits your decor.
Can a daybed be used as a couch?
Yes, daybeds are designed to be used as both a couch and a bed. When using your daybed as a couch, you'll likely want to line the back frame with cushions or plush throw pillows for comfortable support. Also keep in mind that, while you can find Full or Queen-size daybeds, the depth will make it hard to use them for seating, so a twin mattress is a more versatile option.
Are daybeds comfortable?
Like any couch or bed, a daybed is only as comfortable as its mattress or cushions. A cheap mattress made with low-quality materials won't provide as much comfort or last as long as a higher-quality option, like the Leesa Trundle Mattress.