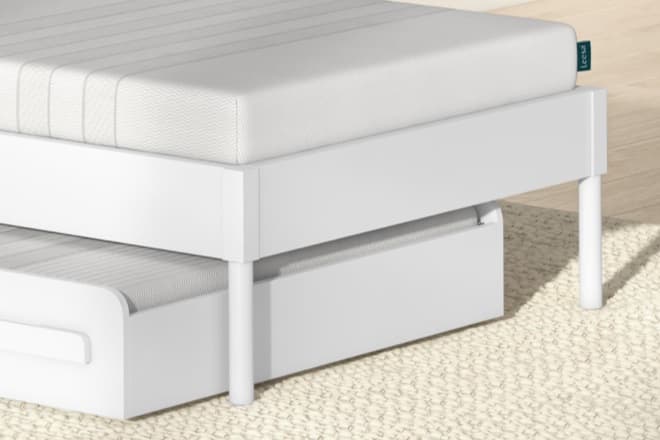 Award-winning Leesa comfort for kids. Designed for gentle joint support and soothing sleep.
Shop Now
Sleep is an integral part of human life, especially for babies and young children. Babies sleep a lot because they need sleep to grow. As babies grow into toddlers, children, and adolescents, sleep plays a vital role in their brain, body, and emotional and behavioral development. This is one of the primary reasons you want to ensure your babies and children get the sleep they need. But how much sleep do babies and children need?
The National Sleep Foundation (NSF) has recommended the following sleep needs of babies and children:
| | | |
| --- | --- | --- |
| Age Range | Recommended Hours of Sleep (NSF) | Recommended Bedtime |
| 0-3 months old | 14 to 17 hours | No recommended bedtime |
| 4-6 months old | 12 to 16 hours | 7:00 pm - 8:00 p.m |
| 7-11 months old | 12 to 16 hours | 6:00 pm - 7:30pm |
| 1-2 years old | 11- 14 hours | 6:00 pm -7:30pm |
| 3-5 years old | 10-13 hours | 7:15 pm - 8:30pm |
| 6-13 years old | 9-11 hours | 7:15p.m-9:00pm |
These recommended sleep times include naps and nighttime sleep. One thing to remember is that these are broad sleep recommendations, and some children may benefit from an hour more or an hour less of sleep. It's also good for you to note that while these are just guidelines, a healthy amount of sleep can significantly benefit babies and children.
Why do bedtimes matter?
Does a bedtime routine matter for children? The short answer is yes, it does. A survey of 10,000 children showed irregular bedtimes are linked with behaviors like hyperactivity, acting out, and being emotionally withdrawn. No bedtime routine or an inconsistent one can affect children the same way as jet lag, resulting in insomnia.
This jet lag effect happens because of the biological clock deep inside the brain called the suprachiasmatic nucleus. This nucleus is a tiny cluster of nerve cells, no bigger than a grain of rice, that's extremely sensitive to light coming from our eyes. When the light begins to fade at the end of the day, a brain hormone called melatonin rises, causing drowsiness. Children have a rise in melatonin earlier in the evening compared to teenagers and adults, so the natural time for school-age children to fall asleep is between 7 to 8 pm.
It's also essential to develop good sleep hygiene early on because proper sleep is essential for growth, immune function, and behavior. Most experts agree that having a sleep schedule leads to healthy sleep habits later on.
Bedtime routines for kids and nap times by age
Sleep is vital for a child's growth. But, how much sleep should your child ideally get for them to get enough sleep? And do they need an afternoon nap schedule as well? Here is some advice on sleep routines by age.
Babies: Newborn to One-Year-Old
Babies go through a lot of changes during their first year, and part of these changes is the amount of sleep they need.
Newborn(0 to 3 Months)
Newborns still have not developed a circadian rhythm, so they typically sleep in spurts of two to four hours of sleep during the day and night. This sleep pattern is because they need to feed. Newborns usually spend between 14 to 17 hours of sleep per day. The American Association of Sleep Medicine ( AASM) and the American Academy of Pediatrics (AAP) don't list a recommended amount of sleep for newborns because fluctuations in sleep patterns can occur during this age. This change in sleep patterns is normal when your baby is this young and doesn't usually indicate any problem. If you want to establish a sleep schedule for your baby, it's best to wait within the 4-6 month range.
Babies usually sleep a lot simply because they need sleep to grow. Sleep allows the brain to develop and facilitates thinking, learning and developing behavior. Sleep together with solid nutrition helps a baby develop physically and acquire better motor skills they need later on.
Premature babies and sleep
If your baby is born prematurely, her sleep pattern will be different from full-term infants. Preemies can sleep up to 22 hours a day, depending on how premature they are. They'll also wake up more often to feed. They also tend to sleep through the night ( about six hours or more) a bit later, usually 10 to 12 months old.
4-6 Months
You can expect your baby to fall asleep anywhere between 12 to 16 hours a day at this age. It's also when they tend to sleep five to six hours in a row during the night. At this time, your baby's nap time will be about three times a day. You can start your baby's biological rhythms by anticipating when they will go to sleep. The trick here is to soothe them and put them to sleep before they get overtired. A good rule of thumb is to put your baby to sleep every two hours.
This age is the sweet spot if you want to start sleep training. Experts don't recommend starting it earlier. Your baby's circadian rhythm has developed, and your baby can go longer without feeding. Sleep training is different from night weaning.
Sleep training is a way of teaching your baby to fall asleep by themselves. You'll usually want to put your baby down when she is drowsy but not still awake, and she'll drift to sleep without needing to be swayed, cuddled, or nursed by you. There is no right way of sleep training your baby, and you can try several methods. There's the:
Cry it out method (Extinction)
The chair methods
Pick up, put down and shush-pat
Bedtime-routine fading
Bedtime-hour fading
Check and Console (Ferber Method)
Sleep training is not for everybody. If you want to try sleep training your baby, keep in mind that there will be a lot of tears involved, both from you and your baby. It can be challenging, but the vital thing to remember is to follow through once you've decided to go through with it. If you need, you can consult with child sleep consultants.
7-11 months
Your baby's total sleep time will remain roughly the same at this age –– about 12 to 16 hours. The main difference will be overnight stretches may reach up to 10 to 12 hours. Your baby's nap time will be reduced to two naps a day, from three. At this point, you would have established a regular bedtime routine with your baby. Try following the same pattern every night so she knows what to expect.
Toddlers: 1-2 Years Old
Your toddler should get anywhere between 11 to 14 hours of sleep every day. Your toddler will still nap at this age, but your toddler will reduce the amount of time she will spend napping to around 1-2 hours.
Your toddler may start with two naps a day, but later on, she may skip her morning nap altogether and take short naps in the afternoon. At this stage, your toddler will be experiencing a lot of excitement as she discovers the world. Understandably she won't want to sleep. So, you need to establish a nap time and consistent bedtime routine and follow it so her sleep needs are met.
Preschool: 3-5 Years Old
Preschool children at this age should get around 10-13 hours of sleep per day, according to top NSF and AASM guidelines. During this time, naps may get shorter, or your active preschooler may skip the nap altogether.
At this time, your preschooler may also experience night wakings because of nightmares and night terrors. Night terrors usually occur when there's partial arousal from a deep sleep. Your child may scream and even sit up, but they are not conscious. There are many causes of night terrors, but one of the causes of night terrors is overtiredness. If your child experiences night terrors, try putting her down for a short afternoon nap. Naps can help with fatigue and can help lessen night terrors. If it persists, you might consider consulting your pediatrician or a sleep consultant.
School-Age Children: 6-13 Years Old
The National Sleep Foundation advises school-age children should get 9-11 hours of sleep every night.
Children of school age have a broader set of ages, so the individual sleep needs of the children in this group can vary greatly—generally, younger children need to have more sleep than older children.
Older children going through puberty and entering adolescence can experience a disruption to their sleep patterns. Remember your teenager needs to get at least 8 hours of sleep every night. It might not always be possible given all the things they do at school, but try your best.
How to Choose the Right Bedtime For Your Child
Now that you know how much sleep your child needs according to their age, calculating your child's bedtime is straightforward. The best way to do it is to count backward.
Pick a time they need to wake up (6.30 am, 7:00 am, 7:30 am, etc.).
Count backward using the recommended amount of sleep your child needs.
For example, your seven-year-old needs to be awake at 6:30 am for school. Ideally, seven-year-olds need 10 hours of sleep. Using this information, work backward from 6:30 am. The appropriate bedtime for your child is at 7:30 pm.
Of course, please don't use this technique for newborns because newborns haven't established a circadian rhythm yet, so calculating a bedtime routine is impossible.
You can use this beneficial Wilson Elementary Bedtime chart as a guide for calculating the proper bedtime routine for your child. A good thing to note is that an early bedtime is best for children because they usually wake up early no matter what time they go to bed. So sleeping at an earlier time is ideal.
Tips to Get Your Child to Sleep Better
Children, like adults, can have trouble falling asleep. Research shows that an estimated 25% of young children have sleep problems or experience sleepiness during the daytime because of insufficient sleep. The good news is you can help your child sleep better by establishing a set nighttime routine.
Create a consistent bedtime routine
Consistency is key to bedtime. This is especially true for infants, toddlers, and school-aged children. A good routine you might want to try includes a light playtime, bath, brushing teeth, bedtime story, and then bed.
Whatever routine you choose, it should be comforting and relaxing to set the tone for bedtime. You can even include relaxation techniques like breathing exercises as part of your sleep process. When your child gets used to the routine, she will start to get sleepy at the start of the routine.
Turn off screens and devices at least 2 hours before bedtime
The blue light coming from tablets or phones can interfere with the production of the sleep hormone melatonin. The hormone tells our body its time to sleep, and when it's at its highest, people, including children, are sleepy and ready for bed.
Try to keep your child's bedroom as screen-free as possible, or make sure all screens are turned off or dark at bedtime. Instead of screen time, you can choose to read to your child in the evening or maybe even play soft music to allow their brain to rest and get ready for bed.
Invest in a good mattress
When your child has her bed, investing in a good mattress that offers excellent support goes a long way to ensure your child has a restful sleep. No matter what sleeping position your child has, a good bed will make sure when they fall asleep, they stay asleep.
It may seem strange to think of giving your child a cup of tea, but it can be as relaxing for them as it is for adults. Create a bedtime ritual that gets your child involved in making a cup of herbal tea (keeping safety in mind at all times, of course!). Have your child dunk the tea bag into the warm water and blow on the steam to cool it off. The meditative effects of a ritual like this can help them relax and slow down for the day.
Before bed, you should avoid any teas that contain caffeine, as it can keep your child up all night. To ensure a peaceful night's sleep, caffeine-free herbal teas like chamomile, lavender, lemon balm, and peppermint are ideal. Some companies even make a tea blend explicitly designed to help achieve a good night's sleep.
Difficulty falling asleep
Establishing a soothing bedtime routine can help your children associate bedtime with sleepiness. For example, relax your child by soaking in a warm bath filled with lavender essential oil or Epsom salts, both of which promote drowsiness and calmness. In addition to promoting sleep, warm milk or herbal teas, such as chamomile and peppermint, can soothe children's stomachs. Further, blue light found in smartphones, computers, tablets, and TV can hinder sleep and reduce melatonin levels. At night, reducing screen time by at least one to two hours may counteract blue light's effects.
Maybe you have already considered the possibility that your child has a sleeping disorder. However, they will likely need to develop a consistent and soothing sleeping schedule, which should resolve the problem!
Early to bed, early to rise
Sleep is essential, especially for babies and children. It makes them happy, healthy, and ready to face the world. One of the best ways to ensure they get the sleep they need is to invest in a mattress like Leesa that gives their bodies the right amount of support and comfort. Invest in your children's sleep. If you have any questions, our team at Leesa is ready to help. Shop Leesa today.
FAQs
What time should a 7-year-old go to bed?
According to the National Sleep Foundation (NSF), a seven-year-old needs 9 to 11 hours of sleep every night. If your child needs to be awake for school at, say, 6:30 am, the reasonable hour for bedtime can be between 7:15 pm latest, 7:45 pm.
What time should my 4-year-old go to bed?
Four-year-olds should ideally get between 10-and 13 hours of sleep, including naps. If your child has dropped the nap, aim for a 6 pm -8 pm bedtime. If your child still naps, you can move the rest closer to 8 pm. Make sure you've set up a bedtime routine for your child.
What is a 12-year-old's bedtime?
A 12-year-old should ideally get 9-11 hours of sleep. If your nearly teen needs to wake up at 6:30 am for school, aim for an 8:15, at latest 9 pm bedtime. Of course, the onset of puberty can affect your child's bedtime pattern and routine. If you notice this is the case, you may want to teach your child some relaxation techniques, limit screen time, and create a bedtime routine to help them sleep better.
What time should a 2-year-old go to bed?
A two-year-old should ideally get around 11 to 14 hours of sleep. At this age, your two-year-old might still be taking one nap a day at this age, so depending on what time your child takes a nap, the ideal bedtime would be around 6 pm-7:30 pm.
What helps a child sleep?
The most effective way to improve your child's sleep schedule is to incorporate a soothing bedtime routine. When young children are ready for sleep, baths and stories help them relax. In older children, the routine may consist of quietly talking about their day, reading a book, listening to soft music, or settling for a few extra minutes before bed.
Children who stay up beyond their "sleep window" produce cortisol and adrenaline (stimulating hormones), resulting in poorer sleep. For instance, night walking is often caused by early risers, children who naturally wake up early despite having a late bedtime. Likewise, when your child fails to get enough sleep and is always tired, research suggests it is most likely because their bedtime is too late. Although an earlier bedtime is not a 100% guarantee, it often helps alleviate problems such as these.