Have you ever wondered how the different types of mattresses are made? We spend a lot of our time in our beds, yet most people know very little about them.
There are countless mattress types, each catering to different lifestyles and preferences. Some are made to prevent motion transfer, and some offer incredible breathability and temperature control. Most mattresses are designed with specific goals in mind, which is why it's important to know what they're made of, so that you can make a more informed decision when it comes time to buy a mattress that fits your needs.
Let's dive into beds!
Most Popular Mattress Types
Over the centuries, beds have evolved, taking on more health-focused functions. Modern mattresses come with a wide variety of different styles and benefits, all supporting specific use cases. The most common mattress types are:
Latex mattresses

Innerspring mattresses
In this article, we're going to identify the separate components of each of these beds to better understand their advantages.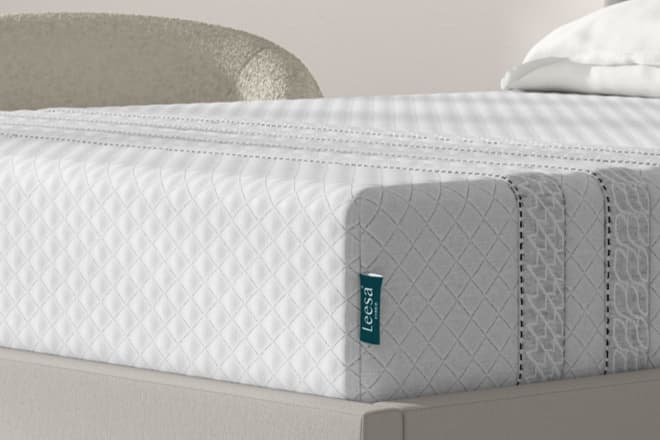 Meticulously designed mattresses for better sleep. Expertly crafted with high-quality materials for cool comfort and support.
Shop Now
How are Memory Foam Mattresses Made?
Memory foam mattresses are known for their unique viscosity and little to no motion transfer (which makes them perfect for those who are easily woken up by their partners). They are able to conform to your body weight and relieve pressure points while you sleep, helping to keep your spine aligned so that you can wake refreshed in the morning without neck or back pain.
Many memory foam mattresses are constructed with multiple levels of foam, each layer a softer texture from the last. This provides the mattress with a level of stability, while still offering that desired plushness toward the top. And though there are many different types of memory foams, most are made of polyurethane and various other additives to create that unique texture.
The only real downside to memory foam is that, historically, it has slept on the hotter side. However, Leesa's memory foam mattresses are hole-punched for breathability so that even hot sleepers can remain cool all night long.
What are Innerspring Mattresses Made of?
The first modern mattress design was the innerspring mattress, which is still the most common type used today. This is mainly due to the fact that they offer great airflow and are generally inexpensive.
They're each made with an innerspring unit that is essentially a wire frame, paired with a few hundred springs. This unit works to support the body, while also giving you the airflow you need to remain cool throughout the night. The innerspring unit is wrapped in a few upholstery layers, including fabric and a top comfort layer of polyurethane foam.
If you're just looking for a typical mattress that won't drain your pockets, the innerspring might be the one for you. However, these mattresses tend to break down faster than other mattress types, which leads to sagging, loud squeaking, and general discomfort.
What is a Hybrid Mattress Made of?
Hybrid mattresses combine the best parts of both individually wrapped springs and memory foam to create the most incredible sleep experience. And at Leesa, we've engineered the perfect hybrid mattress that is equal parts comfortable, supportive, and breathable.
Beneath the recognizable white and gray cover, the Leesa Sapira Hybrid has a comfort layer made of responsive, breathable foam, followed by a level of plush memory foam that helps the top contour around your body. Under the upper comfort layers, we have added 1000 individually wrapped springs that give zonal support and stability while decreasing noise and motion transfer that is common in standard innerspring mattresses. Each of the different layers serves a purpose, which is; to bring you maximum comfort.
What is a Latex Mattress Made of?
Latex mattresses are usually made from natural latex foam, which is derived from the sap of a gum tree. Like memory foam beds, latex mattresses are typically comprised of multiple layers of foam with varying softness. They're known for their durability and offer a bouncy, breathable sleeping texture with full-body support.
However, latex mattresses are typically more pricey than others, putting them a bit out of the price range of the average person.
What Mattress is Right for Me?
Over the past few decades, the mattress industry has exploded with different designs and capabilities. The innerspring mattress, that was once the best option, is now joined by three foam companions. The latex mattress can outlast even the strongest springs and memory foam is matching durability with its incredible comfort and full-body support. And last but certainly not least, the hybrid mattress combines breathability, support, and comfort to create a great bed for everyone.
Sometimes making that final decision can be a little bit tricky, which is why Leesa made this mattress guide to help you choose.
Find the Perfect Mattress For You
Your quality of sleep is the most important thing to consider when buying a mattress, but we all know that prices also play a part in the decision. Beds are an investment in your health, but they don't have to empty your pockets.
By finding the best time to buy your mattress, you can save money by getting the best deals possible.
Takeaways
The four most popular mattress types all offer unique benefits. Before you choose which one is right for you, you should think about which features really matter to you. Do you want the full-body support of memory foam? Or maybe you want the responsiveness of innersprings.
Once you know what you want, then you can make the health investment that your body has been craving.