Innovative retail concept is a place to lay on a Leesa mattress & enjoy art from talented artists.
Retail Location Open to Public Starting 4/28/16 at 112 Wooster Street, SoHo
Come by & meet the Leesa founders on Friday 4/29 and Saturday 4/30.
VIRGINIA BEACH, Va. – April 27, 2016 – Leesa, a high-end, direct-to-consumer online mattress company with an industry-leading social impact program, and ArtLifting, an online art marketplace for homeless, disabled and other disadvantaged artists to sell their artwork, are excited to introduce "The Leesa Dream Gallery": the world's first combined mattress store and art gallery.
"Having successfully introduced a new mattress and a new way to shop online in our first year, The Leesa Dream Gallery is the next frontier. Combining with ArtLifting to create a new kind of retail experience while giving homeless and disabled artists a platform to show and sell their art is a dream come true," said Leesa Co-Founder and Chief Executive Officer David Wolfe.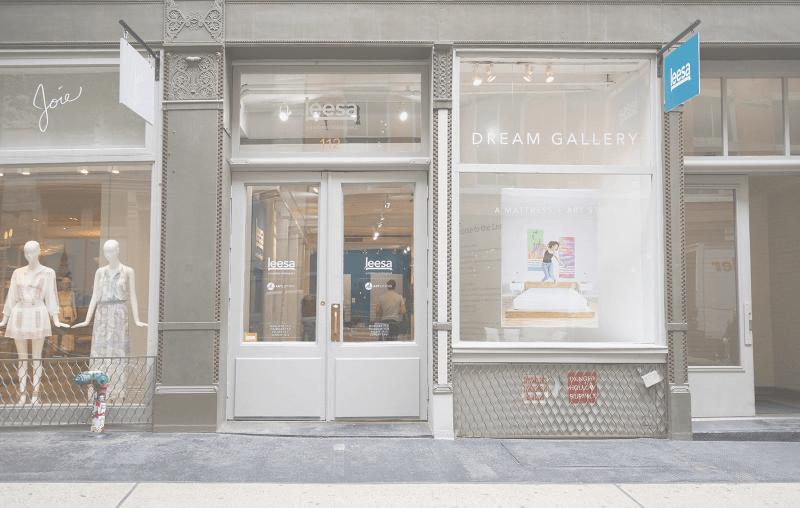 The Leesa Dream Gallery brings together the visions of two forward-thinking online companies. In 2015, the founders of Leesa Sleep dreamed of revolutionizing the sleep industry with a mattress that looks better, feels better and costs less than other premium memory foam mattresses. The founders also dreamed of a company that would measure its success as much by its impact on the world as its revenue and bottom line.
It made sense then to partner with the for-profit social enterprise ArtLifting, which was founded by Liz and Spencer Powers in 2013. Their online marketplace provides a platform for artists who are homeless or disabled to empower themselves through the celebration and sale of their artwork. By securing income and connecting with a larger audience, artists garner positivity that permeates every aspect of their lives.
"People in need don't want a handout, they want the ability to change their lives," said Liz Powers, co-founder and chief happiness spreader. "ArtLifting's goal is to help hidden talents become visible, and we are thrilled to partner with Leesa to showcase the inspiring talent of our artists. As two for-profit, for-purpose companies, we are thrilled to work together to create opportunity and change lives."
Leesa and ArtLifting's innovative new retail concept nestled in the heart of SoHo in New York City offers both a place to dream and a place to help dreams come true. It is the first mattress store without pushy salespeople, allowing individuals to naturally experience one of the world's most beautifully-crafted mattresses, while appreciating artwork created by undiscovered artists seeking to change their lives through their art.
The Leesa Dream Gallery will exhibit ArtLifting's artwork centered on the theme "Everybody has a dream: What's yours?" The resulting artwork will warm hearts. In addition to the artwork available as originals or prints, Leesa is launching a limited edition mattress identical in design to the highly-rated Leesa, except for the cover. The stunning limited edition mattress cover is inspired by Scott Benner, a formerly homeless artist discovered by ArtLifting. Scott receives a percentage of every sale.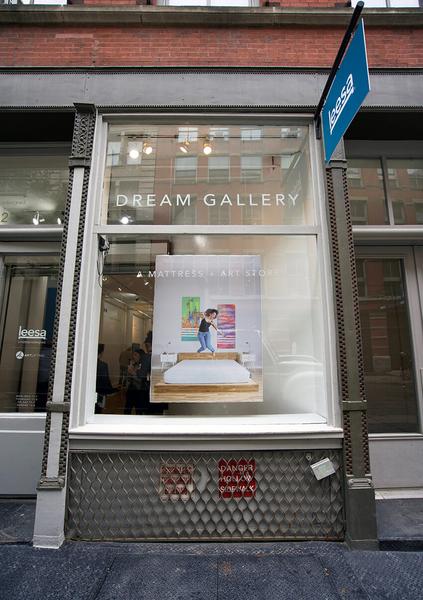 A little more than a year since launching, the Leesa mattress is currently rated higher than all of its direct-to-consumer competitors by the leading ratings publication in the world. Leesa is the number one fastest growing e-retailer according to Internet Retailer's 2016 Top 500 Guide. Tens of thousands of people are sleeping better on Leesa mattresses across the U.S., U.K. and Canada. And through its One-Ten program, Leesa has donated more than 5,000 mattresses to people who would otherwise not have a place to sleep.
ArtLifting was created with a mission to promote and sell art created by homeless, formerly homeless and disabled artists. It also has had extraordinary success and with 55 percent of the proceeds from every sale going to artists, it serves as a vehicle for the artists to bring their dreams closer to reality.
Visit The Leesa Dream Gallery located at 112 Wooster Street in SoHo, New York. You can also check out Leesa online at Leesa.com/dream-gallery.
Learn more about ArtLifting and its mission at ArtLifting.com.
About Leesa Sleep, LLC
Based in Virginia Beach, Va., Leesa is a direct-to-consumer online luxury mattress company that offers 100 percent American-made mattresses delivered directly to consumers' doors. From its start, Leesa has measured its own success not just by the bottom line, but by the company's overall social impact. In addition to the One-Earth tree-planting initiative, Leesa's One-Ten program will facilitate the donation of more than 5,000 mattresses this year. Leesa offers a 100-night risk-free trial, free shipping, and no-hassle returns. The company currently offers free shipping to the U.S., U.K. and Canada. For more information visit www.leesa.com.
About ArtLifting
ArtLifting empowers artists who are homeless or disabled through the celebration and sale of their artwork.
ArtLifting collaborates with shelters and art programs in the U.S. to discover talented artists who are living with homelessness or disabilities. ArtLifting serves as a platform for artists, giving them the chance to earn income through the sale of original paintings, prints, and products. By showcasing and selling their artwork via ArtLifting.com artists gain confidence that permeates all aspects of their lives—offering them hope, validation, and the opportunity to share their talent with the world.
###