Leesa and West Elm Partner to Help People Sleep Better
BROOKLYN, N.Y. – September 5, 2017 – West Elm, a purpose-driven, furnishings retail brand and member of the Williams-Sonoma, Inc. portfolio of brands, and Leesa Sleep, a direct-to-consumer online mattress company founded with a powerful social mission, today announced a partnership aimed at elevating life through better sleep. Beginning this month, customers can experience Leesa's American-made and expertly designed mattresses at 80+ West Elm locations in the U.S. and online at WestElm.com/Leesa. In keeping with West Elm's and Leesa's shared commitment to community, Leesa will donate 1,000 mattresses to charitable organizations in communities where West Elm operates stores and continue to donate one mattress for every 10 sold as a part of Leesa's "One-Ten" social impact program.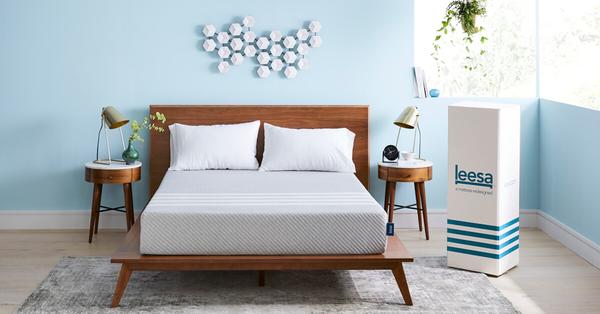 "We strive to help our customers make conscious purchasing decisions that not only reflect their personal style, but can also positively impact their local communities and the world," said West Elm president Alex Bellos. "We hope to offer our customers more than one way to make a meaningful difference through their purchases, whether it's a Leesa American-made mattress, 100 percent organic cotton bedding or one of our many Fair Trade Certified products."
"Leesa's mission is to provide a better place to sleep for everybody through thoughtfully designed and crafted products that meet the highest standards of overall social and environmental performance, transparency and accountability," said Leesa co-founder and CEO David Wolfe. "After beginning our journey as an online-only company, we are thrilled to bring our product to West Elm's stores, a brand that we believe shares our same mission in measuring success not just by financial results, but by our impact on the world."
In addition to helping customers express their personal style at home, West Elm is committed to responsible retail practices guided by three core values: choice, community and consciousness. From minimizing environmental impact by offering 100 percent organic cotton bedding to impacting the lives of 5,000+ workers through Fair Trade programs, and investing in local makers with its LOCAL program comprised of 800+ artists and designers, everything West Elm does is designed to make an impact. These commitments are complemented by Leesa's social impact strategy anchored by its three signature programs:
● The One-Ten program assures that one mattress is donated for every ten sold to non-profits helping people seeking refuge from homelessness, domestic risk and human trafficking
● The One-Earth program plants one tree for every mattress sold
● The Leesa One-Community program supports local communities through volunteering and donations
Leesa Mattresses are made locally in the U.S. and Leesa is widely regarded as a leader in the emerging online mattress industry. Leesa's mattresses offer superior comfort, great value, and are conveniently shipped in a surprisingly compact box. The multilayer construction adapts to all sleepers offering a cool, comfortable yet supportive and restorative sleep experience. Customers can visit any West Elm store in the U.S. or order online with free shipping and a 100-night, risk-free trial, and no-hassle returns. For more information about West Elm and Leesa or to find a West Elm store near you, please visit WestElm.com/Leesa.
About West Elm
Headquartered in Brooklyn, NY since 2002, West Elm opened its first store in DUMBO, the neighborhood it still proudly calls home. With a mission of harnessing the power of design and human connection to enrich lives, everything West Elm does is designed to make an impact in everyday life, from creating unique, affordable designs for modern living and commitment to Fair Trade Certified, from LOCAL and handcrafted products to community-driven collaborations and events. The brand operates 102 retail stores in the United States, Australia, Canada and the UK, ships internationally to customers around the world and has unaffiliated franchisees that operate stores in Mexico, the Middle East, Philippines and South Korea. In addition to home furnishings retail, West Elm operates West Elm Workspace in the commercial furnishings industry and announced its expansion into the travel and hospitality industry with the launch of West Elm Hotels. West Elm publishes the blog Front+Main and is part of an active community on Facebook, Instagram, Pinterest, Twitter and YouTube. West Elm is a member of the Williams-Sonoma, Inc. (NYSE:WSM) portfolio of brands.
About Leesa Sleep
Based in Virginia Beach, Va., Leesa is a direct-to-consumer online luxury mattress company that offers American-made mattresses delivered directly to consumers' doors. From its start, Leesa has measured its own success not just by the bottom line, but by the company's overall social impact. To date, Leesa's One-Ten program has provided more than 18,000 mattresses to those in need. Leesa offers a 100-night risk-free trial, free shipping, and no-hassle returns. In 2016, Leesa was recognized as a certified B Corp, joining forces with more than 2,100 companies using business as a force for good. The company currently offers free shipping to the U.S., U.K. Germany and Canada. For more information visit www.leesa.com.