You're shopping for a new mattress and find yourself in a dilemma. Your bedroom is on the small side, but you like a little room when you sleep. Or, you sleep with a partner. What size mattress do you choose—Full vs. Queen-size?
A Full mattress sounds good and can fit into a smaller bedroom, but a Queen mattress is so much comfier, giving you room to spread out, and cuddle a pet or a child—or your partner. Let's dig in and help determine what size mattress is best for you.
Full vs. Queen-size--Dimensions
To help understand the difference between a Full-sized bed and a Queen, think about an old-fashioned double bed. A Full bed is the same size as a double. The dimensions of your sleeping space may dictate what mattress size you use. So let's take a look at the dimensions of Full and Queen-size Leesa mattresses.
Full vs. Queen-size mattress dimensions
| | | | | |
| --- | --- | --- | --- | --- |
| Mattress Size | Width | Length | Depth | Weight |
| Full | 53" (4.3') | 75" (6.2') | 11" | 76 lbs. |
| Queen | 60" (4.9') | 80" (6.6') | 11" | 86 lbs. |
Pros
Queen beds are popular for several reasons. Those include:
Queen-size mattresses offer extra space and are ideal for either a single person or you and a sleeping partner or your best fur baby.

A Queen mattress is a great choice for average-sized bedrooms, as well as large ones.

A Queen mattress is longer than a Full bed, making them ideal for taller people.

If you like to spread out or you always wake up in a sprawl, a Queen bed is for you.
Cons
Despite the pros, Queen mattresses do have their cons. They include:
Queens are more expensive than Full-size beds.

Queen bed linens and accessories are more expensive.

Queen mattresses weigh more, making them more difficult to move or rotate.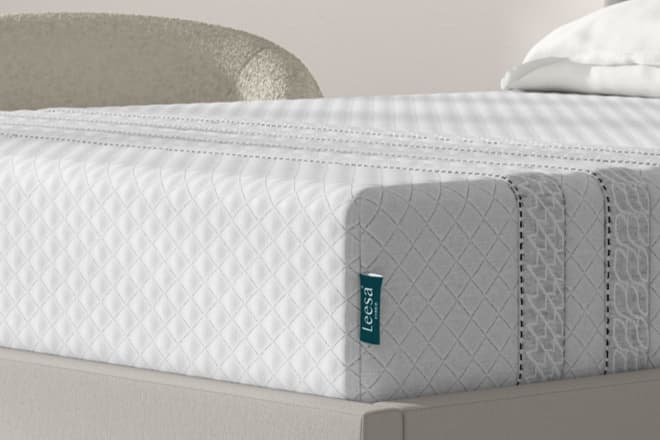 Meticulously designed mattresses for better sleep. Expertly crafted with high-quality materials for cool comfort and support.
Shop Now
Full vs. Queen-size—The Pros and Cons of a Full-Sized Bed
Full beds are great in guest rooms or for smaller master bedrooms. It's possible for a couple to share a Full bed, but it will be a bit of a close fit. Let's take a look:
Pros
The pros of using a Full bed are the following:
A Full-sized bed is often a good transitional mattress for growing children and teens.

A Full bed is a good choice for smaller room sizes

A Full bed can be great for single sleepers

Full-size bed linens and accessories are less expensive than those for Queen-size beds.
Cons
Full beds are smaller than Queen beds, making them a tight fit for couples.

Full beds don't allow for snuggles with your fur babies—or your real babies.

Full beds are shorter than Queen beds, making them a poor choice for tall people.
Full vs. Queen-size—Considerations When Mattress Shopping
Type of Sleeper
The position in which you typically sleep can also guide you when you're shopping for a new mattress.
Stomach Sleepers.
Stomach sleepers use up more space than do most back or side sleepers. Because of this, a Queen bed can be a better choice.
Back Sleepers.
Unless you're the type of back sleeper who always assumes an "X" position when you sleep, you can choose either a Full or a Queen mattress.
Side Sleepers.
Side sleepers tend to take up less room on a mattress. Despite that, consider whether you sleep alone or with a partner. This can help you choose the best mattress, allowing you to sleep comfortably.
Room Size.
Of course, the size of your bedroom helps narrow down the debate between Full vs. Queen-size mattresses. A small bedroom may only allow you to select a Full mattress, especially if you want room for a nightstand and a dresser. If you have a medium-size to a large bedroom, you may have room for a Queen-size mattress. Measure your bedroom to determine which mattress sizes work in your space, and be sure your doorway is large enough to accommodate the bed and bed frames, as well.
Size of Sleeper.
A slender sleeper may choose a medium firmness as their ideal mattress. So can average-size sleepers, unless you suffer from back and hip pain. If you or your partner are over six feet tall, definitely pick a Queen mattress. Heavier sleepers may require firmer mattresses, although a hybrid mattress can offer the ideal mix of firmness plus cushiony comfort and pressure relief.
Singles vs. Couples.
A Queen-size mattress is ideal for the average couple. A Full-sized bed may be a little cramped unless you always spoon all night long. Single sleepers can be comfortable in either a Full-sized bed or a Queen bed.
Find the Right Mattress for You.
Whether you think a Full-sized bed is for you or you're shopping for a Queen-size mattress for your master bedroom, you can find the perfect mattress with Leesa. Check out Leesa's Original, our Hybrid, our Studio, or our award-winning Sapira Hybrid with all the bells and whistles. Leesa also offers mattress foundations, mattress covers, pillows, and bed linens to complement your updated bedroom.
FAQs
What is the most popular mattress size?
Queen-size mattresses tend to be the most popular size of bed. Nearly half of American adults sleep in a Queen bed.
How many inches is a Queen-size bed?
A typical Queen-size mattress measures 80" x 53".
How wide is a Full-size bed?
A Full-size bed measures 60" wide or 5.'
What are the measurements of a Full-size bed?
A Full-sized bed measures 75" x 53", or 5' across.