Both duvets and comforters serve the purpose of keeping you nice and toasty warm at night. But they do have some distinct differences that could make one or the other a better choice for you. In this article, we'll explore the similarities and differences between comforters and duvet comforters.
By the end of this article, you'll be an expert on two cozy options for relaxing and snuggling.

Duvet vs. Comforter
Comforters are fluffy quilts that are typically filled with polyester, down, cotton or wool and stitched with channels to keep the stuffing from shifting around. They come in a wide variety of colors and patterns to add a bit of style to your bedroom decor. Some are thinner for summer, others are extra fluffy for winter and some fall somewhere in between.
Duvet comforters are very similar to regular comforters in that they are both filled with a warm and fluffy substance and stitched with channels to keep the stuffing from shifting. The outer layer is often made of cotton and the inside is frequently filled with goose down, duck down or man made material.
They come in a variety of weights for different seasons and some are made to be cool in summer and warm in winter. Duvet comforters usually have a plain, white or off white outer layer because they are made to be used with a cover.
The duvet cover serves an important purpose. In the same way that a pillowcase protects your pillow, a duvet cover protects the inner quilt. This means that you don't have to wash your duvet comforter nearly as often since the cover can be slipped off and tossed in the machine. It saves a ton of energy since it doesn't use as much water and doesn't take as long to dry in the dryer.
Simply changing your duvet comforter cover is an inexpensive way to give your bed a whole new look.
Leesa Duvet
Leesa's Duvet insert is made of 100% organic cotton. Don't let its luxurious thickness fool you. Its lightweight and breathable design makes it the perfect year-round blanket.
Unlike some inserts, the Leesa duvet is not filled with down feathers, which many people find they're incredibly allergic to. Instead, Leesa chose 100% hypoallergenic polyester. This allows for more even distribution without sacrificing the luxurious feel and layered look.
Leesa Comforter
Leesa's duvet can double as a comforter. You can use it with or without a duvet cover. However, since duvet covers can extend the look and life of a duvet, Leesa recommends the duvet cover, which comes with matching pillow shams.
Because we love options, Leesa Duvet Comforter and Duvet cover plus matching pillow shams are sold separately.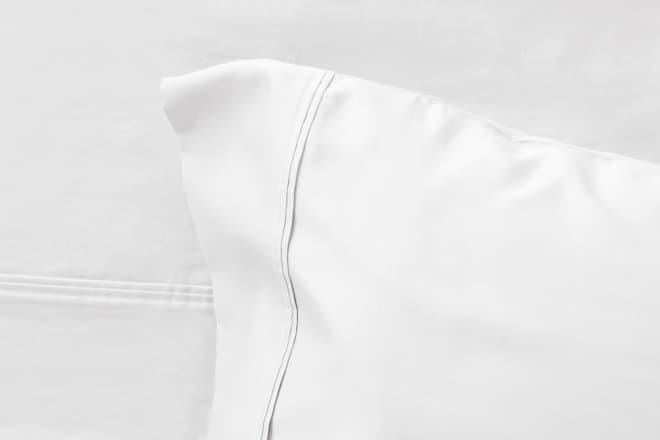 Relax in the complete comfort of cooling pillows, soft, breathable sheets and more from the Leesa Bedding Collection.
Shop Now
The Main Difference Between a Comforter and a Duvet
The main difference between the two is that a duvet is most often used with a cover. The other type of comforter has no cover. However, a duvet can be used as a comforter without a cover.
A duvet set (duvet comforter + duvet cover) will typically be at around the same price point as a quality comforter.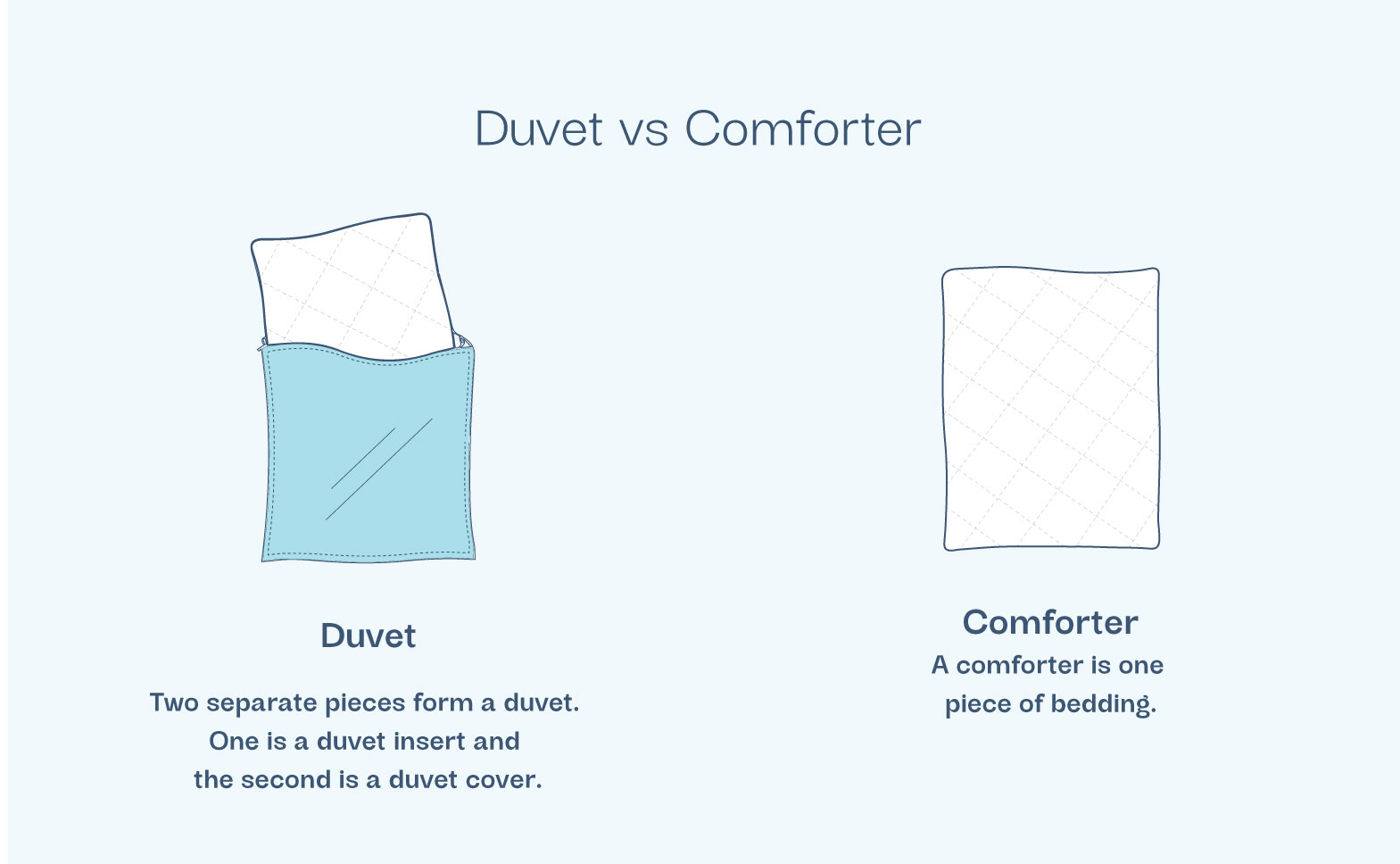 What Is A Duvet?
In a traditional sense, a duvet is any feather-containing blanket put on a bed to keep the sleeper warm. Duvet means "down" in French to describe the traditional filling of a duvet--small feathers on the underside of a goose, duck, or chicken. But since many people are allergic to down feathers, these days, you can find duvets made with synthetic fibers instead.
With that said, in modern terms, a duvet is usually defined as we've defined it above--a two-piece blanket (duvet insert + duvet cover)
What Is A Duvet Cover?
A duvet cover is the outer portion of two-piece duvet bedding set. It can be sold with the insert or separately, giving you options.
Duvet covers are vital for people who don't put a top sheet between themselves and their blanket, which has become more common in the 21st Century. In this case, the duvet cover is a thin but much-needed barrier between your blanket and your skin, especially if you sweat at night.
What Is A Comforter?
A comforter is a soft quilted blanket filled with natural or synthetic fluff and is intended to be functional and decorative. It's usually used with fitted / top sheets, extra blankets, and other bedding. Some people prefer comforters because they're less complicated than the two-piece duvet set. You can also just forego the duvet covers and use your inserts as comforters.
How To Use A Duvet Cover
A duvet cover slips on like a pillowcase. It may involve ties, zippers, or buttons for closure. Remove it from the duvet comforter and wash it once a week with your sheets or with like colors to keep your duvet smelling fresh longer.
It's good practice to wash your duvet cover when you first get it. Remove it from the dryer promptly to reduce wrinkling. Slide it back on the insert and close it.
How To Wash A Comforter Or Duvet
Both are usually machine washable (check your care labels carefully) on super load size. Because these are big loads, you'll probably want to wash these less often. That's where your cover comes in handy. When washing your duvet comforter, be sure to remove it from the washer and promptly get it into the dryer to reduce the chance of mildewing. And check your comforter when the dry cycle completes making sure it's completely dry.
You might even want to toss a couple of tennis balls in the dryer for extra fluffing power as it tumbles dry.
Duvet vs. Comforter: Pros And Cons
The Pros: Duvets
Warm and cozy

Breathable

Easier to wash more frequently

Insert stays nice longer

Duvet cover protects

New duvet covers can conceal worn-out comforters (note: be sure it's the right size)

Better for people with dust/dander/pollen allergies

Cost-effective over time
The Cons: Duvets
Slightly more complicated because of the two-piece design

May cost a little more up-front (but also lasts longer)
The Pros: Comforters
Warm and cozy

Breathable

Ease of use

Great for guest beds that get less use
The Cons: Comforters
Needs to be washed more often if you don't use a cover or top sheet

Washing too often wears it out, so you'll need to replace it more often even if you precisely follow care instructions (getting a cover fixes this)

Can be an ordeal to wash

May need professional dry cleaning
Which One is Right for Me?
Both options will keep you toasty warm and super comfy. It all comes down to your personal preference. If you don't mind washing a bulky comforter, then a regular comforter will suit you just fine.
If you like the idea of being able to change or remove the duvet cover from your comforter, then a duvet comforter (aka duvet insert) is a great option. Leesa's duvet comforter provides you with ultimate flexibility. Buy a Leesa comforter and use it like other comforters, or buy a duvet cover, so it's easier to clean and lasts longer.
FAQs
How to Put on a Duvet Cover?
Your duvet cover slides over the duvet comforter. You can then close it. This process varies by brand.
How to Wash a Duvet?
Remove the duvet cover and wash it before replacing it on the duvet comforter. Because a duvet cover is thinner than a comforter you can wash it more often and keep your blankets smelling fresh. This is an excellent feature since many comforters are too big and troublesome to wash as often as you'd like. You should then wash the insert 3-4 times a year as you would a regular comforter.
How to Wash a Comforter?
To wash a comforter, place it in a washing machine alone on a super load. Move to dryer promptly when done. Check the comforter when the dryer finishes making sure it's dry and avoiding mildew.
What Size is a Queen Comforter?
A typical queen comforter is 60 x 80". However, some comforters are oversized and maybe 84-92" or larger. Leesa's queen duvet comforter is 90" x 90"
What Size is a King Comforter?
A typical king comforter is 78 x 80". However, some comforters are oversized and may be 102-92" or larger. Leesa's king duvet comforter is 106" x 94.
What are Duvet Inserts Called?
Duvet inserts are simply called inserts. As opposed to duvets, which include an insert and a cover, duvet inserts are the inner portion of the blanket. Inserts can be used as blankets, either with or without covers; however, we suggest using a duvet cover to keep the inserts as fresh as possible.