What a pain in the neck! Everybody has at one time or another experienced neck pain and shoulder pain. If this is a chronic issue for you, you can do a few things, including altering your sleeping position and considering a new mattress. A memory foam mattress may be the ideal solution to your pain, so let's look at the best mattresses for neck and shoulder pain.
Types of Neck and Shoulder Pain
Did you know there are seven different types of neck pain alone? They include:
Facet joint pain is usually from arthritic degeneration of the facets, the little joints on either side of a spinal disc

Bone pain is usually a dull ache unless there's a fracture which is much more painful

Nerve pain can feel dull, burning, like pins and needles, or numbness

Referred pain where pain from another part of the body is referred to your neck or shoulders

Muscle spasms usually cause headaches in your neck

Muscle strain, sprain, or tears can lead to painful trigger points

Muscle spasms can lead to a stiff, immobile neck
Common shoulder pain conditions include:
Bursitis — Inflammation of one of the bursa sacs that cushion your joints

Tendonitis — Inflammation of a tendon sheath

Tendon tears — Usually small injuries that are treated by rest and ice

Tendon rupture — A more severe condition where the tendon is partially or entirely torn

Instability — When the shoulder joint is too loose, allowing the shoulder joint to slide around in its socket

Arthritis — Degenerative from overuse and age, or rheumatoid, an autoimmune condition

Shoulder impingement — When the bone above the rotator cuff pinches the cuff

Muscle spasms — Caused by overuse or injury
If you have existing neck and shoulder pain, you're probably looking for pressure relief. Another common cause of shoulder pain in back sleepers is sleeping with your hands over your head. This habit is difficult to break, we know. We feel your pain.
Can the Wrong Mattress Cause Shoulder Pain?
Can the wrong mattress cause shoulder pain? The answer is a resounding "yes." Especially if you're a side sleeper — you need a mattress that relieves pressure on your sleeping-side shoulder.
The wrong type of mattress (a traditional innerspring mattress, for instance) may be too firm and not provide your body with the needed pressure relief it craves. Or, if your mattress is past its prime, that can cause shoulder pain as well. The lack of support from an aging mattress can exacerbate your pain issues.
Let's learn more about the best mattresses for neck and shoulder pain.
Sleep Position and Body Weight
One of the keys to finding the right mattress for your neck and shoulder pain is your preferred sleep position and how much you weigh. Let's take a look.
Side Sleepers
In many ways, sleeping on your left side is considered to be the ideal sleeping position. It's easy on your lungs and your heart. But, it can be hard on your neck and shoulders. A medium-firm mattress is usually considered the best option for a side sleeper, but you must also consider taking pressure off your pressure points (like your shoulder). That's why a memory foam or hybrid mattress can be the perfect option for you.
Back Sleepers
If you're a back sleeper, you probably already know where your pressure points are, which include your hips and shoulders. If you're a back sleeper on the heavier side, you may need to consider a memory foam hybrid mattress for its support and pressure forgiveness.
Stomach Sleepers
Stomach sleepers have different pressure points, which primarily concentrate on the neck. (Ouch!) The lower back can also be affected. Stomach sleeping may be comforting, but it's not considered an ideal sleep position.
If you're a stomach sleeper, you should consider a memory foam mattress and a memory foam pillow to ease the pressure and give you a better night's sleep.
Combination Sleepers
Combination sleepers usually change their sleeping position several times a night. This means their pressure points are variable. Without the right mattress, this position-changing can also disturb your sleeping partner.
For combination sleepers, especially if you're heavier, a hybrid mattress is probably best. It provides firm support thanks to its innerspring base, less movement as you turn, and that cushiony memory foam comfort.
Or, consider an adjustable bed frame. You can create a California King bed with two Leesa Twin XL mattresses on top of our adjustable bed frame. With conveniences like a remote to change positions and USB ports, you and your sleep partner can be comfortable whether you're sitting up reading, binging on Netflix, or ready to go to sleep. Our adjustable frame is also ideal for sleepers with sleep apnea, asthma, or who suffer from acid reflux. Doctors recommend that patients with those conditions sleep with their heads slightly elevated.
Best Mattresses for Neck and Shoulder Pain and Side Sleepers with Shoulder Pain
Side sleepers with shoulder pain have a tough time finding a comfortable position. You need a combination of medium-firm support and that heavenly memory foam "hug." To find the best pain relief, you need the best hybrid mattress available. We recommend our original Leesa Hybrid. Or, if you want the most luxurious hybrid mattress, consider our award-winning Sapira hybrid.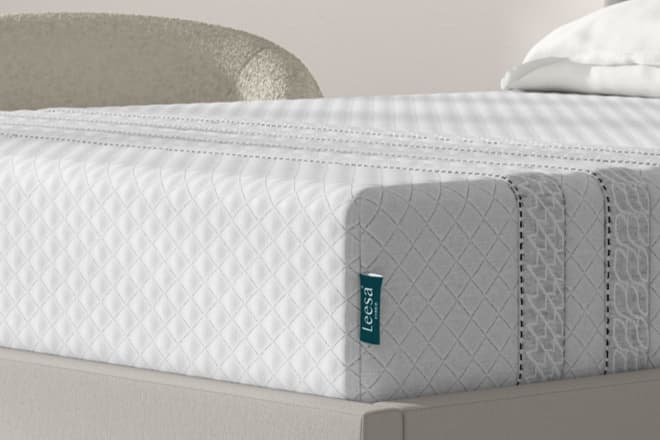 Meticulously designed mattresses for better sleep. Expertly crafted with high-quality materials for cool comfort and support.
Shop Now
Find the Perfect Mattress for You
Don't mattress shop "blind"—you can check out Leesa's mattresses at our affiliates, Pottery Barn, West Elm, and Macy's. Once you find the mattress of your dreams (literally), scamper back home and order your perfect mattress from Leesa. Rest easy—we offer a 100-day trial period. If you don't love your Leesa, return it or exchange it for another model.
All our mattresses come with a 10-year guarantee and free contactless delivery. Or, you can opt for our White Glove delivery which includes the removal of your old mattress and setting up your new Leesa.
Remember, for every ten mattresses we sell, Leesa donates one new mattress to a needy family or child. We've already donated 40,000 free mattresses.
So act now--don't delay. Get your new mattress today.
Best Mattresses for Neck and Shoulder Pain FAQs
Can an Old Mattress Cause Back and Neck Pain?
Yes, indeed, an old mattress can cause back and neck pain. Mattresses are actually expendable items. It's easy to lose track of time. Your mattress may be older than you realize. If your mattress is lumpy, bumpy, or sagging, it's time for a new mattress.
What is the Best Position to Sleep if you Have Back Pain?
The best sleeping position depends on where your back is complaining. Trying a side sleeping position may help if you have low back pain. If you have neck or shoulder pain, avoid sleeping on your stomach, which can worsen neck pain. Ask your doctor or chiropractor for their recommendation.