While there is so much excitement surrounding moving to a new house, getting there can be a pain. Packing, moving, and then unpacking on the other end takes a lot of time and hard work, especially for big pieces of furniture, including your bed. If you have a queen or king-size bed, you may be dreading moving your mattress. Mattresses are heavy, they can be awkward to lift and carry, they flop around, and getting them down the stairs are a pain. But moving a mattress doesn't have to be a nightmare.
How Do I Move a Mattress?
If you're moving your mattress to a new home, you may want to cover the bed with a mattress moving bag, which you should be able to find with the moving supplies. This will protect your mattress from the dirt on the floor, inside the moving truck, and from the elements. Moving straps may also be a good idea. They can help you move your mattress and other heavy furniture. Also, remember that you'll probably have to take the bed frame or foundation apart, so have a designated place to store nails and screws so they survive the move, too.
Tip: attaching your mattress to the top of your car for transport is not always the best idea unless it's a child's crib mattress or a twin. Mattresses are heavy and it could cause serious problems if they fell off. You can rent moving vans by the hour, or find a friend with a truck to help.
Some alternatives to moving your mattress include buying a new one, hiring movers, or enlisting the help of your (strong) friends.
Equipment you Need For Moving a Mattress
If you've decided to move it, you might need to take a quick trip to your local hardware store. There, you can find pretty much everything you need to move a mattress safely.
We understand that beds can be expensive, and the last thing anyone wants is mattress damage, or car damage when it can be easily avoided.
Ratchet straps
When moving things in the bed of a pickup truck, always make sure they're secure. Especially mattresses, as their broad, awkward shape can easily be flipped in the wind.
Buying a simple ratchet strap from any hardware store might save your bed or even someone's life.
The strap will hook onto the holes found in the truck bed and stretch across your mattress, where you can use the mechanical lever to sinch it tightly.
Duct tape
Depending on the type of mattress protector you choose, you may need to seal the openings with duct tape or reinforce the edges. The bag popping open to expose your bed to the elements would be far from ideal.
Sandwich bag
Deconstructing your bed frame will leave you with a handful of nuts and bolts that can easily be lost in the chaos of moving days.
We suggest that you place them in a sandwich bag and keep them in a place that you know is safe. Depending on how you're transporting your mattress, it might be a good idea to slip your bag of bolts into the bag holding your bed so that they can be easily located when you need them. Just make sure they can't tear through the bag or fall out.
Moving van
The easiest way to move your mattress would be to rent a moving van. With the van, you wouldn't have to worry about bad weather or the wind, which means that you could carry other, lighter things at the same time without worrying about them blowing out.
What's more, if you get a full-service moving team, you wouldn't have to worry about loading or unloading your heavy furniture by yourself.
Nylon rope
If you don't have access to a ratchet strap, but you want to haul your bed in a pickup truck, you can use a nylon rope to tie it down. Just make sure it is secure before taking off. You wouldn't want it to come untied, or be too loose while you're driving.
Cardboard box
Another option, besides a moving bag for protection, would be a cardboard mattress box. Many of them come with plastic covers in case it rains, and you can find them on Amazon or at Walmart.
Mattress bag
If you have a mattress made of memory foam that can't support itself on its side or one that is more temperamental, you'll want to keep your mattress flat, so that you don't permanently misshape it. Most mattress bags provide good coverage from dust and dirt, making the floor of your vehicle perfectly safe. You can purchase one of these bags on Amazon, or at Home Depot if it isn't included in the initial purchase of your mattress.
Basic Preparation
Steps for Moving a Mattress
Moving mattresses can be intimidating, even to those who have done it before. Because of that, we took the opportunity to break the process down into 4 simple steps. This guide will have you moving your mattress easily.
Step 1: Measure your mattress.
Measuring your mattress is important for a few reasons. Of course, you need to make sure it will fit in your vehicle of choice, but you also need to know if you'll be able to fit it through the doorways and into the bedroom of your new home.
Step 2: Place your mattress in a mattress bag.
Though it may vary based on the type of mattress bag (your bag should have special instructions included), putting it in the bag is typically pretty simple. You'll just place the mattress on the open bag and then pull the sides and top around to cover it.
Step 3: Seal the bag with tape.
Some bags may come with zippers, but for others, you'll want to bring out the duct tape to close them up. Remember to double-check for any openings or gaps you might have missed.
Step 4: Clear the path and load it into your vehicle.
This step is where you may need the help of a strong friend. Make sure you have a clear path to your vehicle and load it up. If you're strapping it, make sure it's secure in place. Then you're on your way!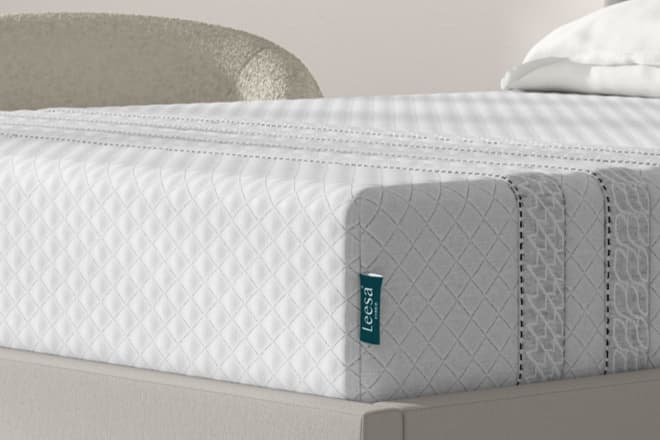 Meticulously designed mattresses for better sleep. Expertly crafted with high-quality materials for cool comfort and support.
Shop Now
Should I Get a New Mattress Since I'm Moving?
You don't have to buy a new mattress just because you bought a new house, but before you wrestle your mattress into the moving truck, really consider whether it should stay or go. Has your mattress seen better days? You may want to consider replacing your mattress when you're moving if:
There are visible signs that your mattress is old: lumps, valleys, etc.,

You're not waking up refreshed, or you're waking up with aches and pains,

You have allergies that have been acting up lately (could be dust in your mattress)

You've had your mattress for more than 8 years
If you deem your mattress unfit to move, the good news is you won't have to deal with physically moving it, although you may have to get it to the dumpster. However, check where you can dispose of your old mattress. You don't have to want to be charged improper disposal fees.
The bad news is that you may have to go mattress shopping. Bummer, right? Not necessarily. At Leesa, our foam Leesa mattress comes in an easy-to-move box. You could even have the box delivered straight to your new address, so all you have to do it carry it to the bedroom, roll out your mattress, take off the plastic, and voilà! You've got a new mattress to go with your new house.
What are Some Dos and Don'ts For Moving a Mattress?
With these do's and don'ts and the previously mentioned mattress moving tips, you're in for a smooth move:
Do's
Don'ts
Forget your mattress moving bag to protect your mattress

Strap a large mattress to your car (a twin mattress size is probably OK)

Slide your mattress down the stairs - this could damage your mattress
What Kind of Mattress is Best for My New Home?
So, you've decided to replace your mattress. New house, new bed, how exciting! But what is the best mattress for your new home? Do you upgrade to a king size mattress? Do you want foam, latex, or an individually wrapped spring? Obviously, the size of your new bedroom will impact how big of a mattress you can have. It may be that your room only has room for a twin size mattress (along with your other bedroom furniture). Or maybe you can squeeze a full or queen size mattress into the space if you only use one of your side tables. If you're going to get a new mattress, make sure you measure the space you have for a bed first. If you've got plenty of space, you may be ready for a king size mattress.
As far as mattress type, that depends on your personal preference. Do you like a firm mattress or something plusher? As long as your mattress gives you the right amount of support (enough to keep your spine aligned while you sleep), the mattress world is your oyster.
Ready for the big move? Let Leesa guide you to the best mattress for you and your family in your new home.
FAQs
Will My Warranty Protect My Mattress During Moving?
Mattress warranties typically do not cover damage done to your property or your bed while moving, as they're mainly for replacing factory defects and thingsof that sort. However, if a mattress cover is included in your initial purchase, some stores will offer to replace it if it's damaged when you move a mattress.
Can You Move a Mattress On Top of a Car?
Experts do not recommend transporting your mattress on top of a car, as it can damage both your bed and your vehicle. Furthermore, if it slips off, it could cause an accident.