Working from home, at least part of the time, has become the new normal. And working from home means sitting—a lot. There's one issue: the longer a person sits, the more likely they are to develop some type of back pain—usually in the lower back but sometimes hip pain or sciatica. None of those painful conditions are pleasant.
In your search to find a solution for a more comfortable working environment, you may have run across some recommendations for adding a seat cushion to your home office repertoire.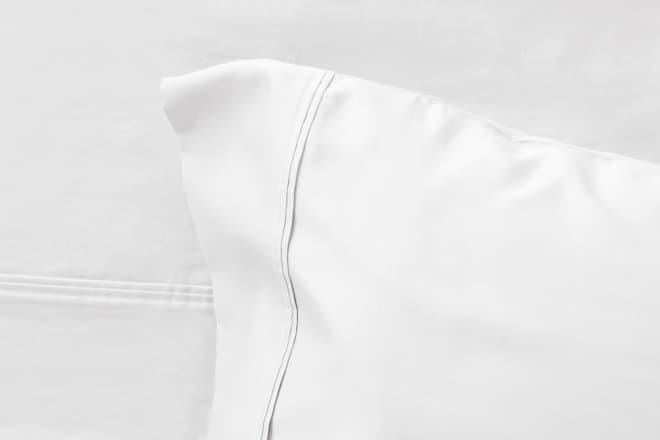 Relax in the complete comfort of cooling pillows, soft, breathable sheets and more from the Leesa Bedding Collection.
Shop Now
The following is your complete guide to great back pain seat cushions for office chairs to help you stay pain-free.
Choose a Memory Foam Seat Cushion
Memory foam, or viscoelastic polyurethane foam, isn't just for mattresses. It's also great for seat cushions and pillows. First developed by NASA back in the 1960s, memory foam didn't take off (pun intended) as a mattress medium until the 1990s.
Memory foam is unique because it molds to the body yet returns to its previous state just a few seconds after the pressure is removed. Rather than enduring pain in the butt (literally), a seat pillow for your desk chair can make a profound difference in your comfort.
The Benefits Of Seat Cushions
Besides comfort, there are some surprising benefits to incorporating seat cushions into your work routine. If you sit for long periods, read on.
Reduces Back Pain
Scientists have known for years that prolonged sitting creates—or worsens-- lower back pain. In fact, a 2007 Canadian study showed back pain was responsible for 28.8% of lost-time claims, with 7 percent occurring in people who held seated clerical jobs. In the United States, back pain is also a serious issue, and the prevalence is rising. Lower back pain impacts one out of two Americans over age 18, and three out of four over 65. Besides the standard treatments of heat, ice, massage, chiropractic, and the like, people wanting to avoid medications should think about finding a simple answer for back pain relief. That answer is an office chair seat cushion that relieves pressure on the lower back and hips.
Improves Posture
Did you know proper posture directly impacts low-back pain? That's why it's important to pay attention not only to proper posture while standing, but also pelvic posture while sitting. A seat cushion added to your old office chair helps maintain good posture, even if your chair has an ergonomic design.
Provides Coccyx Injury Relief
If you've ever taken a fall and landed on your backside, you may have fractured your tailbone (coccyx) without knowing it. For women, a common cause of coccyx fracture is prolonged labor and delivery during pregnancy. Think about that donut pillow a post-partum mom often uses.
And even just injuring your coccyx without a break can cause tailbone pressure and tailbone pain. That's when a pure memory foam office chair cushion comes in extremely handy. Sitting with a coccyx seat cushion is much less painful and is often recommended for use even when the injury is healed. Tailbone pain can still occur after healing.
Improves Circulation
Believe it or not, using seat cushions can help improve your circulation. This is exactly why doctors often recommend memory foam seat cushions. A seat pillow can reduce pressure in the body, allowing blood to circulate more freely. Think about what can happen to someone confined to bed or to a wheelchair—pressure sores, or decubiti. To reduce this risk, doctors often prescribe a memory foam or cooling gel cushion for relieving pressure and promoting pain relief, especially in the pelvic area. And, this is exactly why doctors often recommend people with varicose veins or peripheral arterial disease (PAD) use an ergonomic seat cushion.
Decreases Pressure on Your Hips
Ever notice why during a long meeting sitting on hard seats your bottom starts to hurt? And why it gets worse if you sit for more than an hour? That's because the entire weight of your upper body is focused on your lower body. This is true whatever your body weight. Because the hips are bony prominences, they bear a lot of pressure while sitting. Besides improving your circulation and your posture, using a memory foam seat cushion with firm support can help relieve pressure and relieve pain.
A Memory Foam Cushion Supports Digestive Health
Since seat cushions help your posture, they can also be beneficial to your gut health. Why? Again, it's all about pressure on the wrong places. Sitting upright (proper posture, remember?) after a meal can help lessen heartburn and gastrointestinal reflux. You ever lean back in a recliner after a big holiday meal and then wonder why on earth you're in misery? And, by relieving pressure on your insides, a memory foam seat cushion on your old desk chair can also help with constipation.
Do Seat Cushions Help Back Pain?
In a word, yes. A versatile seat cushion can be used on a dining room chair, on an office chair, even in your car. Seat cushions are different than a chair pad. Chair pads are usually thin and used more for aesthetics. If you're looking for the optimal seat cushion, here's a checklist of seat cushion features you should take a look at:
Does the seat cushion have adjustable straps?
Does the seat cushion have a removable cover?
Does it have a machine washable cover?
Is the pillow itself machine washable?
Does the seat cushion have a non-slip rubber bottom?
Is the seat cushion comfortable for long periods of sitting?
Does it provide lumbar support?
Can the seat cushion be used on dining room chairs?
Can the cushion be used on office chairs?
Memory Foam vs. Other Seat Cushions
There's a lot of competition these days in the seat cushion marketplace. In fact, there are so many choices out there, you may get confused. Do I need a lumbar support pillow, a coccyx seat cushion, a u-shaped seat cushion, or some other type of seat cushion? Which is the best cushion of all?
First, have you ever used memory foam pillows for sleep? If you have, you know how comfortable and supportive memory foam is.
To recap: memory foam cushions really are the best seat cushions around. They relieve pressure, many have a machine washable removable cover, most can be used with versatility--on old office chairs, on a dining room chair, or other desk chairs. Memory foam is the most pressure-relieving cushion option there is--and it's the most comfortable.
How Can Leesa Help?
Leesa offers American-made mattresses and other products delivered directly to your door or via high-end retailers.
But there's more! Leesa also manufactures the highest quality chair pillows using the same technology we use for our amazing mattresses. Imagine: an office chair cushion that feels as good as laying down and falling to sleep on a Leesa mattress!
No more body heat issues like old-school memory foam products. The Leesa seat cushion has a removable, machine washable cover that zips on and off. Plus, it's attractive--a neutral gray polyester twill.
Our Leesa seat cushion ticks off all the boxes and it can be used on most chairs. It's made from a combination of memory and high-endurance foam to provide comfort and support every day.
Leesa's proprietary CertiPur© foam is cooling and responsive for increased airflow and support. Our foam meets the CertiPUR-US standards for content, emissions, and durability, and is analyzed by independent, accredited testing laboratories.
Leesa's foam is:
Made without ozone depleters
Made without PBDE flame retardants
Made without mercury, lead, and other heavy metals
Made without formaldehyde
Made without phthalates regulated by the Consumer Product Safety Commission
Low VOC (volatile organic compound) emissions for indoor air quality (< 0.5 parts per million)
Other perks to the Leesa seat cushion:
Free shipping
A competitive price point
Thirty-day trial period
One-year limited warranty
If you're ready to get the very best seat cushion for your chair and give your bum (and your back) a break, be sure to visit Leesa.com and improve your working environment today.