At Leesa, we measure our success by the impact we're able to make on our environment and in our communities, not just by our bottom line. Purpose is part of everything we do. So, when it came to the design and materials in the all-new Leesa Legend Hybrid mattress, sustainability was a top priority.
Luxury and sustainability come together in the Leesa Legend Hybrid mattress, for an elevated, one-of-a-kind sleeping experience. From organic cotton to individually wrapped springs made from recycled materials, the Leesa Legend Hybrid is beautiful, functional and good for the planet.

Introducing the Leesa Legend Hybrid mattress
Handcrafted comfort and impeccable craftsmanship come together in the all-new Leesa Legend Hybrid mattress. What makes it so awesome?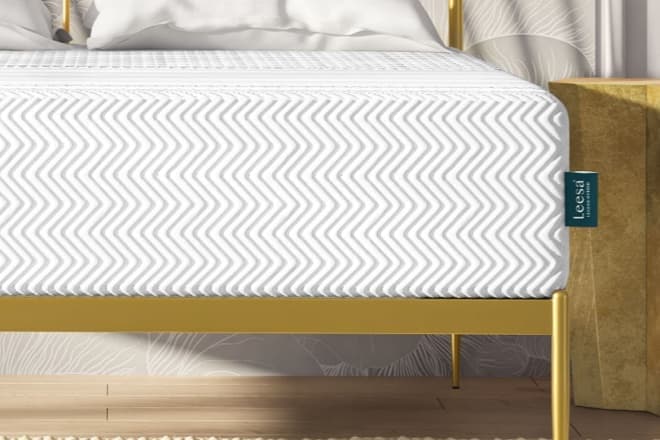 The Legend Hybrid Mattress is a luxury hybrid featuring plush, cooling comfort layers and two spring units for superior support.
Shop Now
The Legend Hybrid gives you
the support of a dual hybrid individually wrapped spring system
—the first of its kind to be compressed and shipped in a box direct to your door—and the luxury of a natural cover, made from organic cotton and merino wool for an elevated sleeping experience and a better night's rest.
Take a closer look inside the all-new Leesa Legend mattress.>>
Rest assured—you'll get your best rest on a Leesa Legend Hybrid mattress, featuring:
A compressed dual hybrid, double-layer individually wrapped spring system. That's two layers of individually wrapped springs to provide unparalleled core support for the hips and shoulders, while offering limited motion transfer and enhanced comfort for an elevated sleeping experience.
A beautiful, knitted cover, made from natural materials, featuring the iconic four-stripe design.
High-quality, premium foam layers for body contouring and pressure relief that provide increased airflow, breathability and temperature control all night long.
In-home delivery and setup available, so you don't have to lift a finger (except for answering the door!).
A high-quality, handcrafted product that is proudly designed, assembled and manufactured in the USA.
For every 10 Legends purchased, we will donate a mattress to a child in need.
The natural, Leesa Legend cover
The Leesa Legend cover takes sustainability to the next level, made with natural materials for a soft, beautiful cover that's good for the planet, too.
Organic cotton
The organic cotton in the Leesa Legend cover is made from 100% organically-grown cotton fiber. But why organic cotton?
Because the methods and materials used to grow organic cotton have a smaller environmental footprint than those used to grow non-organic cotton fibers.
The process to grow organic cotton uses far less water than non-organic cotton does.
Organic cotton crops are not sprayed with harmful chemicals like pesticides and insecticides (non-organic cotton is sprayed with more harmful chemicals than any other crop in the world). These chemicals are not only bad for the workers, farmers and consumers (you!), but are also bad for the environment and ecosystem.
84.5% of the Legend cover is organic cotton.
Merino Wool
Merino wool is a natural fiber that comes from—you guessed it—the Merino sheep. This particular breed of sheep are known for their extremely soft wool, which gives them the ability to live in extreme climates, from scorching hot temperatures to frigidly cold ones. When the sheep are shown, the wool is collected. Don't worry, shearing doesn't hurt the sheep! It's very similar to when we get a haircut.
Merino wool is awesome for a few reasons:
Because merino wool is so fine, it makes a great, soft fiber for anything that will be touching skin—clothing, sheets, mattress covers (cough, cough). It also means it's naturally breathable.
The fibers are crimped, which means curled, which gives the wool a spongy, comfy feel. Plus, the fibers are long, which makes the wool sturdy and strong.
Merino wool is a natural wicking fiber, which means it will keep you cool in the summer and warm in the winter (just like it does for Merino sheep!).
It's hypoallergenic, resistant to bacteria, mold and mildew and a natural flame retardant.
Merino wool is 100% biodegradable and sustainable.
The Leesa Legend mattress is 12% merino wool.
Recycled polyester
When we were creating the Leesa Legend Hybrid mattress, we set out to use fewer resources, discard less and overall better the health of our customers.
The Leesa Legend cover uses recycled polyester, with fiber made from up to 73 recycled water bottles (depending on the mattress size you choose!), bottles that would otherwise end up in a landfill or as pollution.
By using recycled polyester, we lessen our discards, which not only keeps those materials out of landfills, it also reduces toxic emissions from incinerators.
Individually wrapped springs from recycled materials
Just like the recycled individually wrapped springs in the Leesa Sapira Hybrid mattress, both layers of individually wrapped springs in the Leesa Legend Hybrid mattress are made from 95% recycled components, including recycled steel.
Learn more about what's inside the Leesa Legend Hybrid mattress here.>>