If you're enjoying your new Leesa mattress, you may be intrigued to know that we also make pillows with the same heavenly patented foam. Want to take your sleep experience to the next level? Tired of neck pain? Concerned about dust mites in your bedding? Suffer from allergies? Let's take a look at seven memory foam pillow benefits and see why you should consider adding memory foam pillows to your bedroom sanctuary.
What Is a Memory Foam Pillow?
Simply put, a memory foam pillow uses memory foam, that same wonderful substance in your mattress that provides such a restful night's sleep. Just as with your mattress, a memory foam pillow softens from your body heat and begins to conform to your head and neck. This provides gentle support and, often, pain relief. In contrast, pillows made from shredded foam, down, or standard pillow fill, such as cotton or polyester, tend to flatten out or bunch up with use.
Benefits of Memory Foam Pillows
A memory foam pillow offers superior comfort to a regular pillow and allows for a good night's sleep every night. No more waking up with a crick in your neck or a headache. A memory foam pillow's superior comfort feels like sleeping on a cloud. Let's take a look at some of the benefits of memory foam pillows.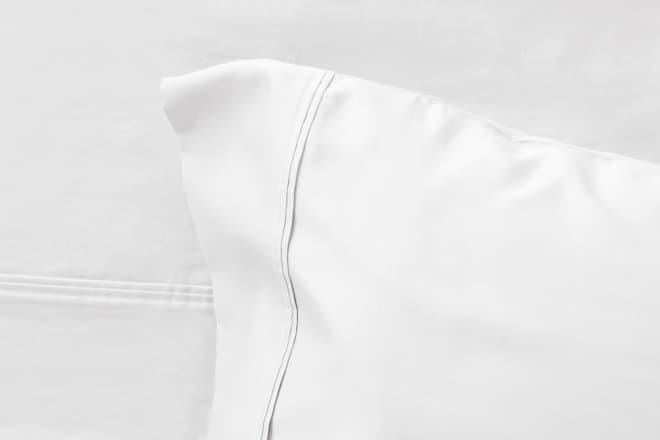 Relax in the complete comfort of cooling pillows, soft, breathable sheets and more from the Leesa Bedding Collection.
Shop Now
Memory Foam Pillow Benefit #1: Neck and Spine Alignment
A memory foam pillow allows your neck and spine to stay in alignment, which helps reduce neck pain and back pain. Having good neck support helps the seven vertebrae of your cervical spine to stay in proper spinal alignment. Another way to enhance natural spinal support is with some yoga-like stretching before bed. Stretching before bed will enhance your sleep and boost your energy the next morning.
Memory Foam Pillow Benefit #2: Hypoallergenic
A huge benefit of a memory foam pillow is that it's hypoallergenic. Some people are quite allergic to down, not to mention that those pesky feathers can work their way out of the pillow over time. Plus, down and other non-memory foam fillers attract dust and dust mites galore. Pro tip: Use a pillow protector and then a pillowcase for ultimate protection. And, be sure to keep your pillow clean.
Memory Foam Pillow Benefit #3: Durable
A memory foam pillow is more durable than a standard pillow. Most standard pillows need to be replaced every two years. If properly cared for, a memory foam pillow can last up to three years.
Memory Foam Pillow Benefit #4: Helps With Snoring
Memory foam pillows can help with snoring. Because the pillow gently elevates and supports your head and neck, it allows your airways to relax and expand, helping you and your partner sleep more comfortably (and peacefully!).
Memory Foam Pillow Benefit #5: Alleviates Pressure Points
A pillow made from memory foam offers significant pressure relief and is suitable for any sleeping position. Side sleepers especially appreciate this. The pillow's uniform pressure removes those pain points in your neck and shoulders.
Memory Foam Pillow Benefit #6: Easy to Maintain
You'll find memory foam pillows are super-easy to maintain. Unlike down or standard-fill pillows, memory foam pillows shouldn't be washed in your washing machine. Instead, only the pillow cover needs to be washed. Should your memory foam pillow get stained, it can easily be spot cleaned with a gentle solution of water and dish soap. Vacuuming your memory foam pillow every few months will also help it stay in the best shape.
Memory Foam Pillow Benefit #7: Helps You Relax
If you suffer from sleep apnea or chronic tension in your upper back muscles, you'll find a memory foam pillow provides better sleep quality. Because your head and neck are cradled by the pillow and in alignment, your spine and the rest of your back will follow suit. The result: a relaxed body ready to go to sleep.
Find the Perfect Pillow With Leesa
Forget about sleeping without a pillow, and check out Leesa's memory foam pillows. Our memory foam is Green Gold Label certified as low VOC to maintain your home's healthy indoor air quality.
Our premium latex pillow is perfect for any sleep position. And because the foam is contour cut with holes for airflow, you'll stay cool and comfortable. Leesa also offers a hybrid pillow made with a down-like quilted side and a cooling gel side. Simply flip the pillow over to cool down on a hot night.
FAQs
How to Wash a Memory Foam Pillow?
Never launder a memory foam pillow — only wash the pillow cover. Washing a memory foam pillow in a washing machine will cause the foam to break down.
How to Dry a Memory Foam Pillow?
If your memory foam pillow accidentally gets wet, the best thing to do is let it air dry thoroughly, preferably outside if the weather's warm. Just keep the pillow out of direct sunlight.
How Long Does a Memory Foam Pillow Last?
Leesa's quality memory foam pillows last approximately three years, which is longer than a standard pillow. The typical lifespan of a standard pillow is up to two years.
How to Fluff a Memory Foam Pillow?
Since Leesa's memory foam pillows are made from a solid piece of foam, no fluffing is required. That's yet another good reason to replace your standard pillow with a premium Leesa foam pillow.